Interview by

Article by

In the world of comedy performance, creating unpredictable experiences is a cherished skill, critical to delight audiences and maintain a persistent level of surprise. On the flip side, consistency and reliability are critical for comedy venues and shows, to provide a space for those performers and their audiences.
In Austin's comedy scene, few institutions have proven their staying power like the showcase Sure Thing. For over 7 years, the iconic duo of Brendan K O'Grady and Duncan Carson have run a show that attracts touring comics, local talent, and newcomers alike, building a reputation as one of the city's cherished comedy powerhouses. Its namesake record label, Sure Thing Records, has over 15 albums out now, the latest being the recently released (and fantastic) Teen Mom by Amber Bixby. Carson himself released his first album, Pointless, on the label in 2018.
It comes as no surprise, then, that Carson and O'Grady appeared in the very first episode of our podcast over 4 years ago. The celebration of our 4th anniversary started with Marcus Wilson, and it was a delight to bookend it by welcoming Carson back this week to catch up with Valerie Lopez and see where life has taken him. Splashing in a bit of unpredictability ourselves, Lopez's son Travis joined the fray, as an ardent Carson fan, burgeoning comedy geek, and special guest interviewer. O'Grady couldn't make the episode, but his presence is abundant in the many stories Carson had to share.
"When I get up [on stage], every time, it's still there's this element of like, 'Who did this to me?'," jokes Carson, when asked if time and experience have changed his experience of getting behind the mic. He's uncomfortable with people who praise him for being "brave" to continually hit the stage, though he strongly sympathizes with the stage fright common to performing. "[I know some people think it's] a terrifying thing to go speak in front of a group of people, but it doesn't feel brave to me."
When I get up [on stage], every time, it's still there's this element of like, 'Who did this to me?'
Duncan Carson
Carson originally majored in writing, but found he didn't want to forever be "sitting at a computer" so decided to try stand up instead as a creative outlet. A self starter, though admittedly disorganized (more on that later), he also taught himself to play keyboard, and had a band for a spell. His continuing and varied endeavors seem to come to him, where he waits with open arms. "I don't really know what's next," Carson says, and "the less you pin your hopes on one individual thing, the more ideas seem to occur."
It's an open-minded approach that has paid off. When Carson moved to Austin in 2011, and met O'Grady, the two immediately started "goofing around with projects". "Some people probably have best friends, and have to like, think of things to do. That sounds exhausting. We just had a standing engagement." There was a short-lived sketch show, then a podcast (naturally), before being approached with an opportunity to start a weekly comedy show. The then-free Sure Thing kicked off at Austin Java, until--after a brief hiatus in 2017--it moved to its new home at Fallout Theater.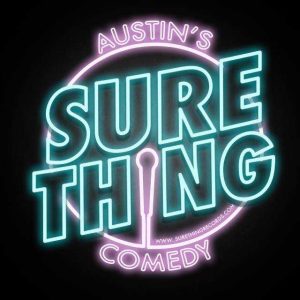 Why has Sure Thing, in an industry filled with creative projects that often shine and dim in short order, persisted? "It's still a mystery to me why it is a successful thing," Carson admits, while at the same time heaping credit on the habits of O'Grady. "[He's] one of the most organized people I've ever met." It turns out, one of the key ingredients in maintaining this creative enterprise is mastering mundanity: "If you run a show out there, listener, make a spreadsheet [to track your shows]." "It's, like, nerdy, the opposite of what you got into comedy to do," he advises, adding that it gives you superpowers when building a lineup, like "reverse sorting" to see who hasn't been on the show in a while. It was a skill Carson also used when he first arrived in the Austin scene, tracking shows and comics he saw perform and liked, to be able to "pick their brains" while he was still finding his footing.
The attention to detail and consistency kept Sure Thing--named after diving through old plays of David Ives, and a bit of wordplay itself--moving through the transition in venues, and from a free to a paid show. Carson and O'Grady weren't sure whether ticket sales would tank their project, but, delightfully, audiences didn't skip a beat, instead growing over time. Fallout Theater has been a great partner to the project, and Sure Thing continues to run every Friday, opened by O'Grady and Carson, followed by a varied, talented, and well-curated parade of comics.
With that much talent in Carson's sphere, the creation of Sure Thing Records almost sounds like an inevitability. 5 years and 16 comedy albums later, the label is going strong, and is the go-to for Austin (and visiting) comics to showcase their material. For Carson, and his project-loving mindset, "[Creating the records doesn't] feel like work...it doesn't seem like a challenge other than I have to learn a skill or two." He knew comedy, so it became a task of mastering (if you will) the processes of managing and manipulating the digital files of recorded performances, while also leveraging his insights to best arrange the content to capture the essence of the performer. It's quite the stable already, but Carson adds there's definitely more to come: "I think it'll pick up...because we have other people that record on their own, bring it to us and need a home", and Carson is happy to provide one.
You can't shake what led you here, and I feel good about now
Duncan Carson
As for Carson's life behind the projects, he continues to describe it as a mix of noncommittal phrases (like "meh"), mixed with clear and developing positivity. While he "wasted a lot of [his] 20's", he recognizes that the past is a critical part of where he is today. "You can't shake what led you here, and I feel good about now," and, "I feel better about getting older...I feel better about the past as a result." He even hints he may "get [his] band back together," while simultaneously seeming to jokingly dismiss it as merely a possibility.
This juxtaposition of certainty, variety, and consistency is how we've come to think of Duncan Carson (as well as a damned nice and funny guy), and it continues to pay off, not only for Carson but for the entire Austin comedy scene. Wherever his ambitions take him next, we can only assume it will be a...well, you know.
See and hear more of Duncan Carson at:
Follow Duncan on the internets:
Interview by

Article by

MORE ABOUT
Duncan Carson