Interview by

Article by

(Hot Tip: Click here to add the Teen Mom release date and Sure Thing headline date to your calendar!)
We love all of our guests, so much so that we welcome them back with open arms to catch up on the latest goings on in their lives. When Amber Bixby dropped by to get us up to date, she had quite a few updates indeed.
The biggest news is the release of Bixby's first ever album, dropping from Sure Thing Records on Friday, February 14th. It's the perfect addition to your cadre of Valentine's Day gifts; and if you forgot that was coming, we also just saved you some serious heartache from your significant other. You're welcome on both counts.
Titled Teen Mom, and recorded at Cap City Comedy Club (with cover art by the fantastic Natalie Guillot), the album captures but a few of the many facets of Bixby's life so far. The setting was her perfect choice to capture her debut record. "[I feel] so supported by the club here and the community," she raves. She was, in fact, a teen mom, and time has passed such that--in a fitting reorientation--she's now mom to her own teen.
[I feel] so supported by the club here and the community
Amber Bixby
Yet she has at times been reticent to build much of her act around that part of her life, opting initially for the privacy of her family. But a child is such a big part of anyone's life, it's inevitable that the topic would grow in importance. Bixby was counseled, "You're talking about your life on stage but leaving out this huge part", something she took to heart and began to build more stories around.
While the album is its own major accomplishment ("one of the biggest adrenaline rushes I think I've ever had as far as comedy," she says), Bixby has been busy in all aspects of her career. She's opened for SNL's Michael Che 3 times, and for Tom Green (of Stealing Harvard, and Freddy Got Fingered, among many other claims to fame). She got to spend facetime, and perform for, personal hero and Texas Senator Wendy Davis. Just being in the same room would have been a thrill, but after her set Davis approached her directly and shared her own story and struggles of being a teen mom. Of finding success and continuing to pursue her comedy dreams in a difficult situation, she told Bixby, "You and your daughter climbed a mountain, and that's what I want for you." It was all Bixby could do not to "lose it completely", and understandably so. "It was a highlight in my life; I'll never forget that moment."
With nearly 10 years of performing behind her, it's inevitable that not every moment has been so spectacularly positive. Bixby shares, both on stage and off, her struggles with depression and anxiety. Therapy has been a helpful tool, and one that is giving her more skills and practices to fight the darker times. "I'm trying to get better at letting myself feel good," she says; "I'm pretty tough on myself at times." Coming off a high like recording an album can often have a paradoxical effect for people, especially those with "goal oriented depression", as Abraham Lincoln was said to also struggle from. After the intense ride of preparation, and then wrapping the taping, friend--and another of our favorite comics--Matt Bearden wisely counseled, "Rest after [the recording], you deserve it, it's such a process."
[Recording the album was] one of the biggest adrenaline rushes I think I've ever had as far as comedy
Amber Bixby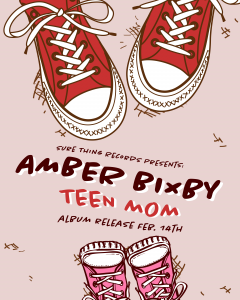 Teen Mom (album art by Natalie Guillot)
For someone that feels so intensely, Bixby has been somewhat reserved in the past at letting those emotions come through in her performances and material. It's something she's working on, and has already paid dividends with audiences. Comedy often works best when people can feel the personal investment in the story being told, and it's a skill that we've seen Bixby deliver on more and more over time. Seeing her perform now, it's clear her heart is both on her sleeve and in her material, and it builds a tangible connection that crosses the boundary of the stage and lights.
What comes next after this momentous occasion, and personal growth? Once Teen Mom is released, Bixby will be traveling, with the docket including San Antonio, Dallas, New York, and potentially Los Angeles (from which we respectfully request that she returns). As a single mom, getting onto the road is an understandable challenge, but something she hopes to work in more when possible.
Writing is also playing a bigger role in her life, especially since--as with most comics--the content on the album is now effectively "retired". Does she feel anxiety about leaving the body of work behind? "These jokes have gotten me [as far] as they're going to get me," she says, and that's no small achievement. She also hopes to do more work in film, joking that "Directors seem not to hate me." Her talent on screen has already been captured in the hilarious web series Pretty Awful, and it's hard to see that as anything other than an indicator of future success in the medium.
As our time draws to a close, a consistent theme has emerged. "I always want to be more, and I always want to be better," Bixby says, and her past accomplishments and future goals clearly reflect that. The drive to create and succeed is a double edged sword; admirable and necessary, yet often personally costly. The need to achieve can foster its own anxiety, and success is a roller coaster for many.
The Amber Bixby that sat down with us today is more excited and prepared than ever to handle it, and we feel she's absolutely on her way to even greater things.
iTunes pre-sale link for Amber's album Teen Mom: itunes/AmberBixby/TeenMom
Amber can be seen:

Ground Floor - Friday February 14 8pm at Hotel Vegas

Sure Thing - ALBUM RELEASE SHOW and headlining Friday February 14 9:30pm at Fallout Theater

The Velveeta Room - headlining Friday 2/28 9pm, and Saturday 2/29 9pm and 11pm
Follow Amber
Interview by

Article by

MORE ABOUT
Amber Bixby