I have covered quite a few comedy shows on this site. There was that one person sketch show about the Mothman Prophesy. Then there was the other one about dating. Surely we shouldn't forget the one where the audience votes on who was funnier, the drunks, stoners or sobers. That's just scratching the surface, there have been shows involving singing and comedy, plays, two person improv, one person shows and on and on.

This is what makes the Austin comedy scene so fun. The creators, curators and performers in these shows are limited only by their imaginations... and sometimes other stuff, but mostly their imagination. These endeavors have made my writing experience an eclectic tilt-a-whirl of word craft.
From Denver to Austin
One of these creative comedic types is Roxy Castillo. Castillo, who originally hails from Denver (Colorado, not Missouri) got her start in the stand up comedy scene in the Mile High City eight years ago. Here's her abridged version:
"I always liked comedy as a kid, but it was in college that I took an elective theater class that was a comedy course. So they taught us basic improv, sketch, and stand up. When I excelled at that, it just fit my life. Gave me an outlet for my oddities and need for attention and ever since that silly class, I was hooked."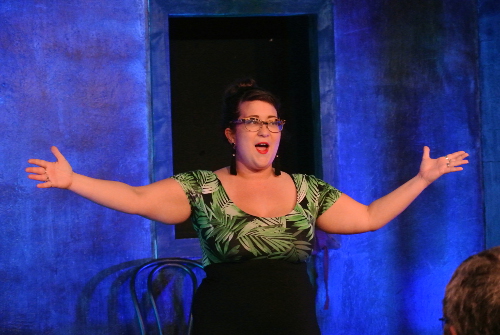 Castillo went on to tell me that shortly after the class, she decided to move to Austin on a whim. She got the idea in December and by April, she was packed and gone - no job prospects, no housing plans, just a few personal items and a big jug of faith in that it was the right thing to do. She felt Austin was more suited to her, so she packed and moved, having never visited Austin before and according to her, it was a perfect fit for her and her sense of humor. In Austin where she started expanding into improv and sketch comedy. Her involvement with the sketch group, Bad Example, introduced her to the New Movement Theater and the topic of this article.
The Witching Hour
Roxy Castillo has decided to blend her love of comedy and the occult into her new show, The Witching Hour. What is it and why? Because this:
"It's an occult comedy talk show. It's a mix of Pee Wee Playhouse and a Hogwarts class taught by me. I'm really into mystical/occult/new age type stuff (tarot, crystals, astrology, etc) and a lot of my friends come to me for information on this stuff, so I figured I should put a show together where I can explain some of these things thru a comedic lens."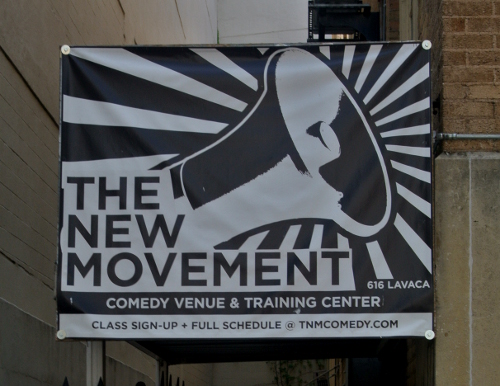 In case you were wondering, yes there will be character guest interviews and presentations with the help of Kelsey Rogers, Zaftigg Von Bon Bon, Vanessa Gonzalez, Cody Cartagena, Stephanie Pace and Ariel Greenspooon. For the first show, Castillo is focusing on crystals, tarot, and magik (with a "k" not "C" like that David Blaine stuff). As a bonus, the show is sponsored by Nature's Treasures, a local gem and crystal store, and audience will receive a few free gifts and coupons to start them on their cosmic journey.
Deets
Of course the show is at the New Movement Theater. It's also this Saturday, May 28th, at 9pm. As you should all know by now, The New Movement is a BYOB establishment and is nestled near the corner of 7th and Lavaca in scenic downtown Austin. Ticket info can be found on this Eventbrite page. Remember, they're cheaper in advance wink.
As for Roxy Castillo's other projects and appearances, she be can be seen all over town doing all sorts of things. The best thing to do is follow her on Twitter. She also dabbles in burlesque under the name Miss Fahrenheit and performs weekly with Bad Example.