Interview by

Article by

Ahead of the release of his debut full-length album, Secrets, landing July 30th from Sure Thing Records, it was our pleasure to have Aaron Brooks back with Comedy Wham for a Volume 2 interview. And what better place to continue our story, than where Brooks feels at home: the comedy stage. (Thanks to Fallout Theater for supporting this event and providing said stage!)
People know Brooks best for his comedy, and rightly so, but I know a fellow nerd when I meet one, and my intuition was confirmed when he dropped a reference to his multiple Rick Moranis action figures in his opening set. He also noted they were for sale, and it took a great deal of self-control to not jump up and place a bid right then and there. I wish I could claim some supernatural level of clairvoyance, but truth be told, if you've seen Brooks's comedy, or listened to any of the 450 episodes of The Lanalax Corporation with Brooks, Pat Dean, and a massive coterie of guests, you already know of his penchant for pop culture and things of a geeky nature. The cover for Secrets is itself a paean to nerd-dom, illustrated immaculately by Alexis Gardner in the style of a Choose Your Own Adventure book from the 80's. It's a perfect companion to both Brooks's personality, and a tip of the hat to Lanalax, which puts guests in a virtual adventure of their own. Every episode summary is the same: "[Host] asks [guest] a hypothetical"; that simple line belies the almost infinitely creative ways the hosts curate their guests in dealing with unexpected situations, posing their own solutions to try and save the day, or at the very least escape a gruesome death. Without giving exact numbers, I can say that they frequently do neither, and the glee with which they meet their fates is one of the best parts of the podcast. We love it so much that we begged (we are not above it) Brooks to do a mini-sode at the live event, and it's included in this episode.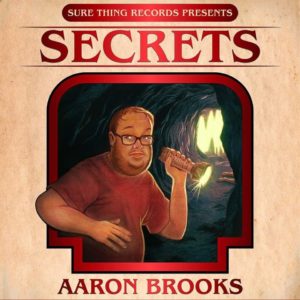 Secrets, illustration by Alexis Gardner
As on-the-nose as it might be to say, the album cover couldn't be more representative of this time of Brooks's life, as he has made a momentous choice of his own. He'll be leaving Austin soon to start building the next phase of his career in sunny Los Angeles, and has been hard at work in preparation. In addition to preparing for
Secrets,
which was recorded over two nights this year at Cap City Comedy, he's also spent the past two years working on scripts and other material to broaden his skillset and portfolio. The drive to dive into this process is part of the reason he's decided to move on from Austin. The well-earned name Brooks has built for himself here has, he feels, begun to lull him into a bit of complacency with regards to growth. Without the pressure to compete for stage time, and with several successful shows like
Low and Inside
and the now-ended
Six Shooter,
Brooks isn't feeling the requisite urgency that helps boost his output and trajectory. I know the feeling, as I'm a very deadline-driven person, and sometimes things just don't get done until the heat is on.
[Ed note: He's not kidding.]
"I have to make it myself...go where there are people that can impact my career," Brooks says. And as for deciding between the two Coasts? "It was the easiest decision. I'm not a New York guy. I'm a slow walker," he laughingly notes. Having made a similar move before from St. Louis--at a similar professional inflection point--Brooks is in touch with what he needs to keep him moving. The Austin comedy scene will certainly feel the loss, but he's quick to point to Valerie Lopez and the audience names and shows that he swears are the funniest in town. That includes his show colleagues and friends like
Mac Blake
,
Nick Saverino
, and
Ralphie Hardesty
, and the popular and long-running
PUNCH,
run by
Matt Bearden
, which was actually where one of the two nights of his album taping took place. Brooks notes how "spoiled" we are with great comedy in Austin, and praises
Punch!
--which runs every Tuesday at Cap City Comedy--as something especially unique. "[
PUNCH
] is like the best show in America...I've done comedy all over the country and there's nothing like it," he says, and after taping the set that night, "there was just this big feeling of like, okay, I did it...it was like a really emotional thing." I think that's Brooks in a nutshell: someone who thrives in being open, whether in his comedy, or his effusive praise for the people and institutions surrounding him. To see him take on this next phase, working in long-form and new mediums, after seeing what he can pull off in a short comedy set, or extemporaneously in
Lanalax,
is exhilarating. For a man who excels at capturing and telling the stories from his life, we can't wait to hear and see what comes next in the adventures of Aaron Brooks.
Twitter
Interview by

Article by

MORE ABOUT
Aaron Brooks