Tyler Morrison can arguably be called the first guest of what pre-dates Comedy Wham. Contributor Lara Smith has been a long-time fan and--on a trip to Canada--I had the opportunity to sit down with Tyler to cement my fandom. Morrison then and now has been prolific: as a stand-up performer, but also as a writer for Roast Battles south and north of the border (Canadian, in case that needed to be said).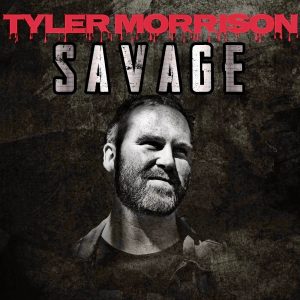 In that prolific vein, he's released 2 albums simultaneously. The first being Savage, and then this masterpiece, Comedy Exile. It's not clear if Morrison is self-imposing exile, if he's hoping to achieve exile, or if the 11 tracks on this album cover topics that are typically associated with being exiled. Some of the topics, on their surface, are the topics that might make some cringe (one track is called "Snowflakes", but we won't spoil any of the content), but as with many things, you have to listen for the setup and the context and then you can appreciate how Morrison is able to craft a joke.
Observational, taken from his own life, peppered with word play (my personal favorite has to be in relation to the demise of House of Cards), and filled with that sharp-tongued style that you've come to expect from Morrison. Comedy Exile builds slowly and reaches its apex with the last 2 tracks ("Call Me Caitlyn" and "Christmas Town"), but those tracks only work if you've been along for the entire ride. It's like the aperitif to the steak entrée, you shouldn't have one without the other.
You can find both Savage and Comedy Exile on Vimeo and Spotify. Get your copies to tide you over until Tyler can produce even more comedy for us to enjoy.
Get more of Tyler at TylerMorrison.ca, and links to his albums below.
MORE ABOUT
Tyler Morrison