I have a few lady friends who are huge fans of Zac Brooks. When he's performing at shows like Sure Thing, they tend to get a bit warm. This weekend, Mario DiGiorgio may want to adjust the air conditioning at the Velv Comedy Lounge when Brooks headlines the venue.
Austin and Success
2 1/2 years after he started doing stand up, Brooks left his hometown of Houston and set up shop in Austin. While you won't find him at gas stations asking for gas money to in order to get back to Clutch City, you will find him around town, working open mics, performing in showcases and fine tuning his jokes. Shows like Punch! and Sure Thing have benefited from his act. Brooks has been featured on the Sure Thing Records debut album along with a plethora of local comedians.
Since his move to Austin, Zac Brooks career has escalated quickly. In his words, " Since then I've performed at Fun Fun Fun Fest, Austin Sketch Fest, and Moontower Comedy Festival. I also host a monthly show at TNM called "Peep Show" which is half stand up and half comedic commentary on vintage pornography."
[youtube https://www.youtube.com/watch?v=6pnBeH9FYgg&w=560&h=315]
This is what I like about many of Austin's comedians. They don't limit themselves to only stand up. They have podcasts, short films, and other projects that expand their comfort zones and expand their skill sets. The New Movement Theater and its avant-garde approach to comedy is the perfect petri dish for such projects.
Headlining the Velv
The Velv is an old school comedy club located next door to Esther's Follies on 6th and Red River in downtown Austin. Over the years its been a proving ground for local comedians. Since taking over as manager and booker, Mario DiGiorgio has maintained a delicate balance of keeping the traditions founded at the Velv and modernizing it. He's done and exemplary job of it.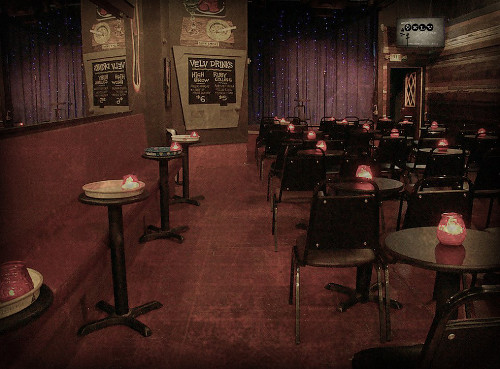 Zac Brooks twill have three shows between Friday, 9/25 and Saturday, 9/26. He won't do it alone. Mario DiGiorgio has lined up an a rock solid host who just happens to be named Rob Gagnon and feature acts that will jive with Brooks like peanut butter to jelly on bread with no crust and a cold glass of milk. Rob Gagnon has been featured on this site several times. I've had the pleasure of seeing him perform sketch and stand up and he been consistently entertaining.
The shows are at 9pm on Friday; and 9pm and 11pm on Saturday. Ticket prices are $10. If you're a fan of Zac Brooks, this is a good time to see him. If you've never seen him perform before, read my previous sentence.
Details
The Velv Comedy Lounge
Follow on Twitter: @comedywham