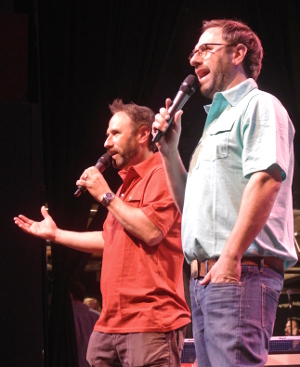 Whoa. That's pretty much how I feel about my inaugural experience with Moontower, which celebrated its 5th year. Maybe the organizers felt they had to work extra hard to make it special for the 5th anniversary, but a few little birdies told me that this 5th year is just a sign that every year, Moontower gets better and better. Confirming what I already knew after watching a couple of shows this weekend: I absolutely want to come back for 2017.
Thursday
I deviated from my original recommendations and it allowed me to have one of the most memorable comedy experiences of my life. My only regret as a big fan of The Bone Zone, I wasn't able to get to the live taping. What I saw on Thursday, when I switched up my game plan, more than made up for that regret.
I saw a show called Stars in Bars which followed a traditional stand up format with comics from across the country. I saw stand up sets by Brendon Walsh and Randy Liedtke, so I felt a little less bummed about missing their podcast taping the following day. There were great acts on this lineup: Martha Kelly, The Sklar Brothers, Dana Gould, Greg Behrendt, Arden Myrin, and Jon Rudnitsky of SNL fame. Rudnitsky wowed me with his character work and high-energy set. A couple of bonuses to that show were that Colin Jost, also of SNL fame, dropped in to do a set while Matt Bearden hosted the entire showcase of excellent comics.
And now, the piece de resistance, the Goddamn Comedy Jam, hosted by the amazing Josh Adam Meyers. Meyers had a background in music before setting his sights on comedy. The Goddamn Comedy Jam is a blend of musical performance (by legit backing band, Elemenope) and stand up. The idea is Meyers kicks off with a musical performance which is engaging and involves the audience (I felt sorry for the guy standing next to me who got pulled in to do awkward things with Meyers' mic, but he was a team player).
Meyers then introduces comics who do their traditional sets followed by singing a song for the audience. The comics also engage the audience and if you're not on your feet, then you may just be dead. The night's comics were Joe DeRosa, The Sklar Brothers, Adam Ray and Big Jay Oakerson. They each performed stellar sets and selected memorable musical pieces. From Huey Lewis to David Bowie to 4 Non Blondes to Pantera, the night was rocked. Ray's performance of 4 Non Blondes' What's Up was so rousing, I heard it discussed well into Saturday. Since Prince died earlier that day, Meyers lead the entire lineup in a rousing rendition of Purple Rain that nearly had me in tears.
Friday
The Ron Funches late show on Friday night was my escape from downtown and I got to see Daniel Webb and Rob Khosravi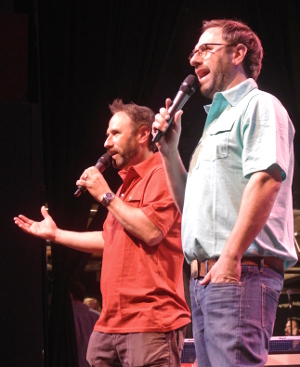 support Funches that night. Funches is as adorable as he is wickedly funny. He pulls in the audience with his sweet demeanor. Don't let that fool you, he made some wicked social commentary and let us know that he is no pushover. He was extremely gracious after the show and took pictures and chatted with those interested in seeing that bright smile up close.
Saturday
Saturday brought a last-minute addition of the daytime Ping Pong Slapdown moderated by The Sklar Brothers. If you're keeping count, that's the 3rd time I got to see them over the course of the festival and each time I was more and more enamored of their style of comedy. The crew of Comedy Wham were present as was my 9 year old son. Not only was it a blast listening to The Sklar Brothers give a play-by-play commentary on the ping pong table action (which pitted a comic with an audience member), but they interviewed the losers of each round, and most amusingly, when they noticed my 9 year old in the front row, they incorporated him into their commentary, referring to "the 9 year old in the audience" to remind everyone any time the comedy turned blue (don't worry, it stayed blue in all the right places). My son was beaming at the attention.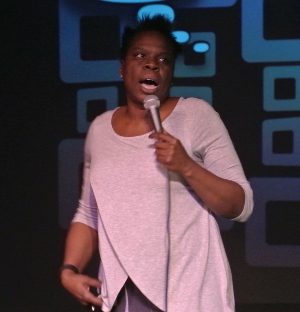 Saturday night, I stuck to my selections and enjoyed Leslie Loves Colin, featuring SNL cast members, Leslie Jones, Colin Jost and opener Jon Rudnitsky. Rudnitsky did a different set than the one he performed on Thursday, so I got to see his Dirty Dancing Live performance which you can catch on the February 6 episode of Saturday Night Live. Colin's performance was a treat, but the firecracker Leslie Jones came out with a bang and never let up the heat.
Her energy reminded me of Kevin Hart, but Leslie is unique and even when she's yelling at you for wearing a denim shirt on a date with a hot girl (yes, she did that), you can't help but love her. The final portion of the performance was Leslie and Colin together answering "audience" questions (some were plants by each other) where you got to witness in action the exuberance of Leslie's staged attraction to the awkwardly timid Colin. I loved seeing an all-SNL showcase since SNL is so near and dear to my heart.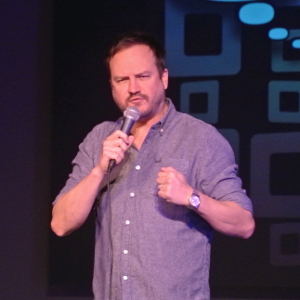 The final show for Moontower brought together the Comedy Wham crew for Matt Bearden's Piranha, which you can read about in Lara's article from last month. The comedic "Shark Tank rip-off" was staged in a small room in the back of the Townsend club that gave an intimate feel to the experience.
Jesse Joyce, Arden Myrin and Mike Macrae assisted Bearden with the judging while comics Martin Urbano, Raul Sanchez, Avery Moore, Abby Rosenquist and Devon Walker performed sets in hopes of getting their jokes bought by the judges. While the other comics successfully sold individual jokes, Walker achieved a rare feat in getting paid to NOT sell his jokes and focus on making minor tweaks for added comedic effect. Walker was described by Bearden as a shining new star on the Austin comedy scene. His adoration of the comics on the show was evident throughout the evening. Bearden takes his role as ambassador of the Austin comedy scene seriously and it was clear to me why so many of the young comics in Austin look up to him.
Watching a home-grown show was a perfect nightcap to the Moontower experience which allowed me the opportunity to see great comics from across the country. It's always nice knowing that the Austin comedy scene rewards you handsomely with its talent even in the midst of a national showcase event.