Interview by

Article by

I like comedy that sneaks up on me. Versus, say, hooded assailants. It may sound cliché; of course the essence of humor is to introduce an unexpected perspective on a topic or situation. Regardless, there are performers who have a singular gift for setting expectations through body language or affectation, then seamlessly shattering them, and our guest this week Elizabeth Spears is definitively among them.
"[My friends] didn't get it, but I loved [Carlin] so much."Elizabeth Spears
When Spears takes the stage, she often sets a specific tone: measured, calm, what some have called "low energy". It's almost the antithesis of one of the comedic styles she cites as a key influence, the off-the-rails, manically pacing, late George Carlin. It was exposure to Carlin's particular brand of twisted perspective that Spears credits for getting her through a rough time as the native Austinite found herself struggling to adjust to her first year of college in South Carolina. "[My friends] didn't get it, but I loved [Carlin] so much", she tells Valerie Lopez.
After wrapping that short-lived collegiate year in South Carolina, having not found it at all to her liking, Spears returned to Austin and continued to put herself into spaces that could attend to her unabated interest in comedy. In the audience at events like Coldtowne Theater open mics, it mattered little how the performances went, but that they happened, and provided ample validation that developing her comedic skills was to be a locus in her life.
It takes scant seconds for Spears to lull you into a sense of what her performance will be like, and even fewer to unravel it completely. My first exposure to Spears was one of her sets at The Velv, where she silently took the stage, almost as if a member of the audience had snuck up to the mic. She kicked off a story about of one of the uses for her bathtub, as if quietly confiding to a group of friends. It quickly became apparent it's the kind of story you tell only to a group of very close friends, who have absolutely no boundaries. "I want to say what nobody's saying," Spears says.
"I want to say what nobody's saying." Elizabeth Spears
It's not easy to harness that sensibility, to turn a topic on its head or pull the audience--and fellow performers--into a space they're not expecting. The Damn Dirty Filthy Show, a showcase Spears co-hosted, was about just that: getting comedians to find their most gloriously raunchy threads and make material out of them. In Playpen, the show she currently hosts every Tuesday night at Fallout Theater, she sets the stage for the performers to try out what must be exclusively new material, at 3 minutes per set.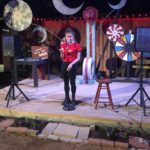 It matters little whether the theme is dark, profane, or shocking. More than anything, it feels like Spears is dedicated to the turnabout: a deliberate plan to challenge herself and others to create the unexpected. She even has a fan site, Elizabethfans.com, which a devoted follower pieced together to capture candid moments in her glamorous daily life.
Ok, she created that site herself, but that doesn't take away the magic; in fact it adds to it. Comedy often lands best, as Valerie notes in the interview, when the lens is focused on the source, and with ElizabethFans, Spears does literally that.)
With multiple years of Funniest Person in Austin finals under her belt, and her first time hosting at Cap City in August, Spears has refined her goals and is set on meeting them. Pull aside the thin veil of sometimes dark and measured demeanor, and you find a comedian with focused energy, intent on success.
Just don't try and second guess her.
-----
Stay up to date with Elizabeth Spears, and become a super-fan, at Elizabethfans.com. Here's a preview of what she's doing in the near future:
Fri. July 20th, 8:30 p.m. - Sorry, Closed for Comedy @ SHED Barbershop
Tues. July 31st, 9 p.m. - High Tide @ Kinda Tropical
Thurs. August 9th - A SHOW TBA
Sun. August 12th, 8 p.m. - I Can't Believe It's Comedy @ Beerland
Weds. August 15th, 8 p.m. - Hosting for Brad Williams @ Cap City Comedy
Thurs. August 16th, 8 p.m. - Hosting for Brad Williams @ Cap City Comedy
Fri. - Sat August 17th-18th, 7:30 & 10 p.m. - Hosting for Brad Williams @ Cap City Comedy
Tues. August 28th, 10 p.m. - OOB Fest: Sextracurriculars @ Hideout Theater
Sat. September 1st, 7 p.m. - OOB Fest VIP Party Show
Sun. September 2nd, 10 p.m. - OOB Fest Show @ the Velveeta Room
Interview by

Article by

MORE ABOUT
Elizabeth Spears