STAG Comedy is quite possibly Austin's premier sketch comedy group and their annual Halloween show called STAB opens this week at The Alamo Drafthouse Ritz this Thursday, October 16th at 7:30pm.
Strong Comedy Roots
STAG was founded by Joe Parsons. The Austin native founded the sketch group sometime around 2007 with two other performers. In 2009, Mac Blake (Funniest Person in Austin Winner, 2013), David Jara, and Ximena Estrada joined the sketch group. Eventually the three founding member moved on to other projects, but Dave Youmans, Andrew Rosas, Lance Gilstrap, and Sam Malcolm joined bringing the total of performers to seven.
The current line up for STAG has worked hard to create a high quality and entertaining show for audiences. Their efforts have helped built a loyal fan base and strong reputation for good sketch comedy. It's paid off in spades as STAG has performed at SXSW, Moontower Comedy Fest, Out of Bounds Comedy Fest, Toronto Sketch Comedy Festival, Chicago Sketch Comedy Festival, Seattle Sketchfest.
STAB Takes Halloween to Task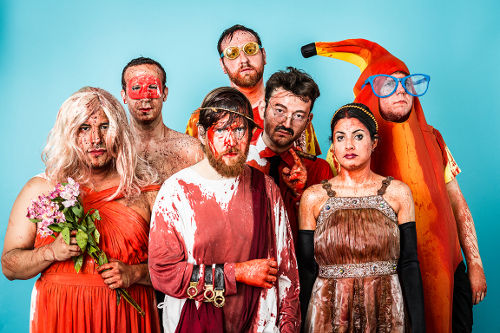 STAG has put their show, Below the Law on the shelf for a while and is starting up with STAB which opens this Thursday in Austin. STAB is a spooky Halloween themed show which features according to the press release, ".. It's a mix of live and video sketch comedy. It has werewolves, murder buttons, disembowelment, filthy language, outer space judgement, and so much more." They had me at murder buttons.
STAG is pulling out all the stops for the opening show. Mac Blake loves the Drafthouse, "The Alamo Drafthouse Ritz is a giant room, but so much fun. Our Drafthouse shows are ones we try to go all out for and we'll do some stuff that's specific to the Ritz show." If you're wondering what specials plans STAG has for their Ritz show, remember the Ritz is a movie theater. STAG has some special video sketches planned for the audience.
Mac Blake also told me they're taking STAB on the road with shows in San Antonio and Houston. This isn't the first time the troupe has left the comforting confines of their Austin home,
Go Watch STAG Comedy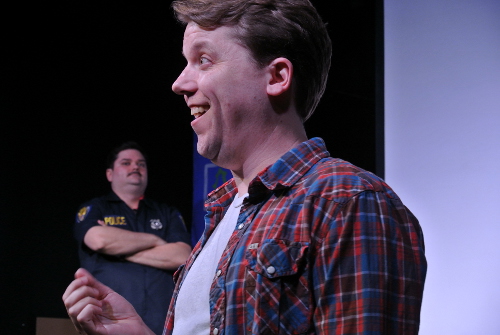 While they've performed at Moontower Comedy Fest and SXSW, I first saw them at Out of Bounds Comedy Fest this year. I had them on my list of must see acts, so I was stoked as a I sat down in the Hideout Theater. At the time they were doing the Below the Law show. It was something to behold. They brought a ton of energy to the stage and by the time they were done, I thought I had an aneurysm . Of course, I mean that in a good way. Mac Blake is a very talented while doing stand-up. Jara, Estrada, Youmans, Rosas, Gilstrap and Malcolm are equally talented and active outside the realm of STAG comedy. David Jara, for example, has been on the ever rotating cast of Master Pancake Theater.
So ask yourself this, "Am I really busy on Thursday nights?" If you do some soul searching, and the answer is "No, I am not busy on Thursday nights," then get online and buy a ticket or two for STAG Comedy's STAB show at the Alamo Drafthouse Ritz on the 16th. It'll be worth it. Tickets are available at the Alamo Drafthouse website.
More Information
You can follow me on Twitter @ElDavidThomas