Sauced! Comedy is back at Kebabalicious this week and guess what? You don't need one of those fancy SXSW wristbands to get in!
Warm Weather Means Getting Sauced!
Katie Stone is reanimating her warm weather comedy showcase this Wednesday at the brick and mortar Kebabalicious site at 1311 East 7th St. Sure it's downtown, but it's not downtown and to make things better, not only is it wristband free, there's no cover.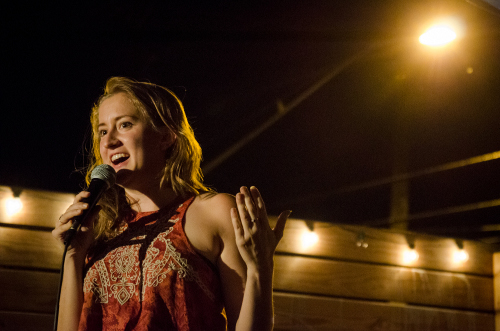 The show is unofficial but with the line up Stone has organized, it should be official. Local comedians Duncan Carson (Cohost of the successful Sure Thing Showcase), Avery Moore (who sings like an angel and hosts The Late Slot at The Velv Comedy Lounge) along with Andrew Dismukes and special guests will be taking the mic at 8pm. Katie Stone didn't tell me who the special guests are but with past headliners like Kath Barbadoro, Danny Palumbo, Aaron Brooks, and Ramin Nazer are any indication, they are going to be a treat.
I shouldn't be surprised that Katie Stone is able to assemble such a crack team of talented performers. Not only does she host and produce Sauced! Comedy but on the first Sunday of the month she's co-producing and hosting Naughty Bits with Ella Gale at the New Movement Theater (seriously, this theater is mentioned a lot on here).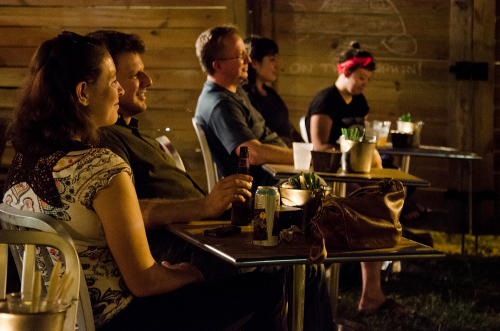 Don't forget the sketch comedy. Stone can be seen performing regularly with the Taken Seriously sketch group along with Caitlin McNally, Nathan Ehrmann, and Robert Segovia at The New Movement Theater. All this along with being a stand up comedian has allowed her to see the best and worst of shows. Plus she has a very strong talent pool to pull from, despite SXSW going at full speed.
A No-Brainer Location
Kebabalicious is well known food trailer in Austin. It's so popular they decided to open a store front on the corner of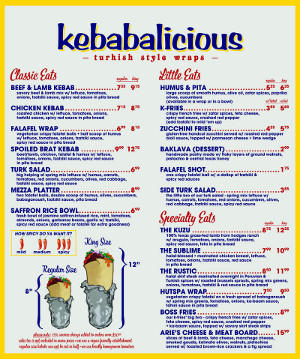 East 7th and Navasota. This is good for a couple of reasons:
1. It provides patrons a steady location to consume beer and their awesome menu items like their cheese plate.
It's on the east side! Parking tends to be easier east of I35 and it's only a few blocks from the downtown train station. For those of you close to a metro rail station, like myself, take advantage of the extended rail hours and enjoy the show.
I'll will absolutely be at the Sauced! Comedy kickoff show. It's rare for me to see Duncan Carson do a full set, since I mostly see him hosting at Sure Thing, and Avery Moore is worth her weight in comedy gold. I hope you all take some time tomorrow, step away from that really rad art-deco new wave synth band or whoever is performing in front of the McDonald's food trailer and get a heaping helping the Austin comedy scene at the Sauced! Comedy kickoff show.
[googlemaps https://www.google.com/maps/embed?pb=!1m14!1m8!1m3!1d13784.155154374097!2d-97.728304!3d30.264476!3m2!1i1024!2i768!4f13.1!3m3!1m2!1s0x0%3A0x1b245f1a089bc25c!2sKebabalicious!5e0!3m2!1sen!2sus!4v1426612909498&w=600&h=450]
Details
Katie Stone
Follow Comedy Wham on Twitter: @ComedyWham