By Lara Smith
Piranha. Is it a vicious fish found in the Amazon? Is it a series of campy horror films? Yes, and it's also the latest genius comedy showcase creation from Austin's legendary comedian, Matt Bearden. Slated as a "game show style-up event," Bearden self-describes it as a "rip off" of the television show Shark Tank.
How it Works
A panel consisting of Matt Bearden and two other seasoned comedians serve as judges and investors. Previous panel members have included Chris Cubas, Mike MacRae, Brian Gaar and Johnny Hardwick. A lineup of some of the best up-and-coming comedians perform jokes that they are willing to part with... for the right price. The panel is given a budget for the night to bid on jokes they would like to purchase for their own. These are the basic mechanics of Piranha. What actually happens is an absolutely unique comedy experience.
What You Get
On top of getting several great sets from the performers, audiences are treated to cross-talk between the judges, interactions with the performers and panel, bidding wars, and a whole lot of ball-busting! What this showcase offers that others don't, is an opportunity to see the nuances of comedy and joke writing. Bits get broken down and sometimes even reworked in front of the audience.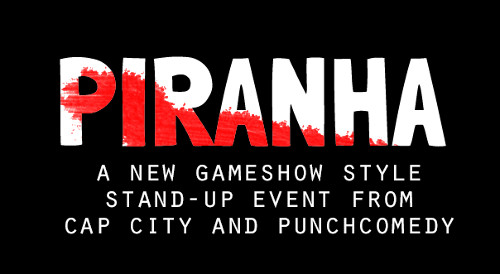 Judges offer feedback on what jokes they love and sometimes what jokes to reject entirely. Often, members of the panel shell out large chunks of their budget just for the rights to a single phrase. You get to see behind the curtain at a part of comedy that often takes place at 3 AM in living rooms after a show. The crowd feels like it's part of the bidding war as its cheers and shouts of suggested offers go flying around the room. It is truly one of the most energizing comedy events that Austin has to offer.
If you haven't gotten to see an edition of Piranha, don't worry, the showcase is coming to Moontower Comedy & Oddity Fest April 23rd 10:30 PM at The Townsend. If you can't make it to that, follow Matt Bearden's production company, Punch! Comedy on Facebook, Twitter, or visit its website for upcoming shows. Also, Matt Bearden hinted that there may be podcast version of Piranha coming soon. Stay tuned to Comedy Wham for updates. You can also hear Matt Bearden weekdays, 6am - 10am on 93.7 KLBJ FM's Dudley and Bob With Matt Morning Show.