Interview by

Article by

Interviewing comedians is always an exciting adventure. You learn what makes them unique and what ties them together. Sometimes you also learn about their extensive knowledge of soap operas and this was the ice breaker I had with Mitch Mekulsia. Mekulsia is energetic and engaging, but doesn't give the impression of being "always on" the way one might expect from such a high-energy comic.
Mitch Mekulsia didn't grow up in a big city or even a small town, Mekulsia grew up in a village. Situated about an hour away from Pittsburgh, Mekulsia's small school had a graduating class of 107 students. Raised by his grandparents, lending insight into his vast knowledge of soap opera history, the closest town was Indiana, PA. Mekulsia describes the culture there as a very "Ford vs Chevy" kind of tribalism. Mekulsia's mother is a hospice nurse, to which he attributes his dark sense of humor, being able to laugh and find humor while dealing with death on a daily basis.
Growing up with that sense of humor, Mekulsia was drawn to the weird and nonsensical styles of humor. He spent a lot of time watching SNL and movies, but didn't yet see the draw of stand up.
Mekulsia recalls making his friend laugh after being hit by a bomb in Iraq and that was the "shove" it took to get him into comedy. He was still more interested in writing and directing at the time, but after realizing the instant gratification and feedback of stand up comedy, he committed himself to that process. After two months of writing, he did his first open mic. While his initial experiences stripped him of the confidence and self-esteem he had built up, he realized that getting good would take time and effort.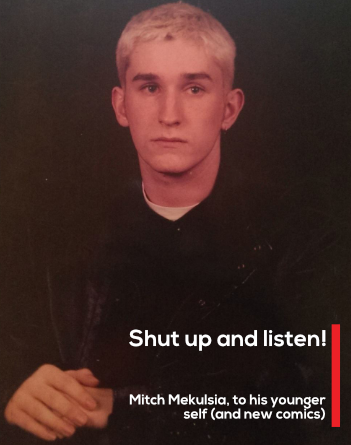 Not long after, a manager of an Atlanta club approached him after a set and told him to keep going because he had talent. Mekulsia emphasized, "Those little moments of support are very rare, but if you keep getting them ... it keeps you going." Mekulsia was dedicated to getting better. Living in Augusta at the time, he would make the two hour drive to Atlanta four to five nights a week. He formed a laser-focused work ethic in which he began diligently keeping track of his sets, convinced he would be better with each benchmark he set.
Moving back to Pittsburgh for school, Mekulsia soon met fellow comedian Danny Palumbo. After completing his undergrad degree, Mekulsia was looking for a better scene to grow his comedy chops. While the Pittsburgh scene gave a fair amount of opportunity for stage time, the crowd size was unreliable and often small. By September of 2011, Palumbo was looking to move to Austin and Mekulsia was happy to join.
Behind the comedy scene, Mitch Mekulsia battled his own struggles. Following an extensive back surgery in 2015, Mekulsia was in and out of the hospital for months, due to complications. In that time, he developed an addiction to Oxycontin. It affected his ability to write, do comedy, and do much beyond sleeping. Realizing he couldn't just quit on his own, he turned to fellow comic and friend, Michael Priest to take him to a detox facility. Following that experience, Mekulsia vowed to avoid the drug, maintaining a strong self-awareness of his weakness to certain substances.
Where writing and filmmaking is concerned, Mekulsia pitched, wrote, and shot a feature film for his thesis in college. He has directed shorts and videos, and is currently writing a pilot for a series. A series that I have decided, following our interview, I will hound him at least once a month about until it comes to fruition. It's that good.
Mekulsia still writes about his experiences in the military, but has been mindful not to make it his sole focus, but rather a part of his entire life narrative. He didn't want to be labeled the "Iraq comic" and after seeing his sets several times, it is truly just a part of the fabric of Mitch Mekulsia.
Mekulsia also believes in giving back to a scene that has given so much. He hosts Party Weekend, the open mic at Mister Tramps on Wednesday nights. His open mic has a reputation for being generous, especially to new comics trying to get their feet wet on stage.
When asked if he could go back in time to his first open mic and give himself advice, Mekulsia says he would tell himself (and any new comic) "shut up and listen." He advises new comics on a scene to just sit down with older comics and listen. "So just shut up and listen, and let it all happen organically. You don't know what you're doing yet. And you think you do, but you don't and you might never. But you don't for sure now." Sound advice from "Older Mitch" to "Young Mitch," right along with don't forget your girlfriend's birthday.
Interview by

Article by

MORE ABOUT
Mitch Mekulsia