Interview by

Article by

An accountant and an actuary step into a Zoom call; stop me if you've heard this one.
There was a time when that sentence would have made zero sense, but in 2020, this is how we still do the crucial things we must to reach out to people, including talking to the comedians that fascinate us. In this case, the actuary is, of course, our own Valerie Lopez, and accounting is merely the day job for Austin comedian Luis Flandes.
The past year was already notable for Flandes, appearing at Moontower Comedy Festival and Funniest Person in Austin in 2019, and releasing his first comedy album, Baby Boy. It's a journey with, as you might expect from someone with a focus on numbers, a very well defined start. He's also known as the host of Comedians Interviewing Musicians.
On July 9, 2012, Flandes tried his first open mic. I call the date out because it's quite rare for anyone to remember not only the series of events that started them on the road to comedy, but the actual square on the calendar as well. Recounting his early comedic influences (Carlin, Chappelle), to Shakespeare classes in middle and high school, it's clear Flandes had a taste for performance that bit early and stuck with him. "I like the idea of being someone else for a little while...it makes it less scary," he says of the experience.
I like the idea of being someone else for a little while...it makes it less scary
Luis Flandes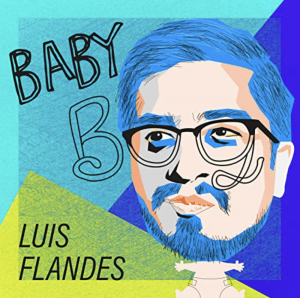 That quote looms prescient, as it was a desire to change his life when, after graduating from St Edwards University, Flandes found himself in the unenviable position of being arrested for DUI. It was a wake up call that made him realize he had to "be someone else": the comedian that had been lurking inside but not being the priority he felt it needed.
So, after attending a show featuring Maggie Maye, Flandes found his way to that first mic, which led quickly to a second (both attended by family), and thus began his renewed commitment to performing. His love of mathematics (something Valerie can always moon over), and previous stage experience, serve him well in this new endeavor.
Comedy is a game of precision: pacing, timing, and intricate use of language. Words versus numbers, but the concepts are intimately similar. Just as an equation must be executed correctly to come to the correct solution, a joke or story must be crafted in just such a way to take the audience on the desired journey, and set them up for the premise that surprises them and gets the most laughs.
Flandes readily notes the similarity, saying "My joke writing is sometimes formulaic, or like an equation," if a bit inverted, as he often finds the endpoint of his equation first and works backwards to make the story lead to the proper conclusion. The process finds him feeling on some days a writer who performs, and others the exact opposite.
My joke writing is sometimes formulaic, or like an equation
Luis Flandes
Flandes's progression in comedy has followed a similar methodology of precision. While Moontower was his first festival, over 5 years since the beginning of his comedy career, it was by choice. He set out the goals and the measure of quality in his act, the call to appear at Moontower came right at the time he felt he'd become ready. But, as we've seen, when he has a goal in mind, he also generally has a plan to get there.
Baby Boy, released in January, and named after one of Flandes's favorite jokes, is a bit of an exception. He didn't set out to record an album and work his way up to it. Instead, it was born (ahem) of the seed of an idea based on a joke hatched while he was "taking a dip" in the pool after a workout. With characteristic detail, he lays out the moment a kid in floaties swam up to him and, quite innocently, dubbed him--you guessed it--a "baby boy". What could have been a crushing moment for self esteem--he jokes that the supposed baby did in fact have a full beard--instead turned into an opportunity to seize the narrative and turn the incident into a story that remains one of his favorite jokes and closers.
Recording the album happened as almost a coincidence vs a well orchestrated operation. Flandes decided to try expanding beyond his normal 15 minute set one night, and was so pleased with the response and quality that he felt it was the moment to capture those jokes, and, as is often the case with comedy albums, to consider retiring the material and moving on to new things. (He's quick to admit that he still uses some of them, because he loves them and they "work".)
Pandemic life has been a bump in the road for Flandes, as with many comedians, robbed of the audiences and venues to ply their trade. He's spending his days navigating the challenges of doing his day job remotely, writing new material, and, he jokes, drinking too much whiskey. (Who among us, right?) When things start to get back to normal, or the new normal, he's looking forward to new milestones, including potentially taking on hosting a Friday show at Austin East Ciders.
So, one might say Flandes is in the middle of a new chapter in his story, and if we've learned anything, it's that he's got the tools and chops to write the script that will take him there.
Luis Flandes can be seen:
On video at his Youtube channel
Follow Luis
Interview by

Article by

MORE ABOUT

Luis Flandes