Chris Rose is bringing his ode to late night talk shows, Late Night Basement, to Austin in conjunction with Fun Fun Fun Fest, and he's bringing friends.
From Austin to Brooklyn and Back
Late Night Basement is Chris Rose's baby. The Brooklyn based, Austin native, created the show as a tribute to network late night talk shows. You know what I'm talking about and if you don't, you may want to turn on the internet or a TV. Then again, if you're reading this, you know about the internet... I digress.
The show has all the bells and whistles of its network big brothers, but its not in the shadow of the FCC. Which means, Rose and his team have more leeway with the jokes, quips and shenanigans. The team's hard work hasn't gone unseen. Recently the website, New York Natives, wrote an article about Late Night Basement, branding it "The Funniest Show Not on Television." New York Magazine also crowned it 2015's "Best Comedy Show in New York."
[youtube https://www.youtube.com/watch?v=MVG6WxHpgNU&w=560&h=315]
Chris Rose is so confident the show can carry such honorifics, he's decided to take the show on the road with some friends. Fortunately for Austin, he's bringing it to The New Movement Theater this Friday, November 6th, as a part of Fun Fun Fun Fest Nites. The beloved festival is taking place this weekend and Nites is an extension of Fun Fun Fun Fest taking place at a variety of venues in the downtown Austin area.
Chris Rose is Bringing Friends
Here's a rundown of the shows guests pulled from the press release:
The Lucas Brothers have performed on Late Night With Jimmy Fallon, been written about in Rolling Stone, and have appeared in Arrested Development and 22 Jump Street. You can catch their animated show "Lucas Bros Moving Company" on Fox, but these Late Night Basement vets are at their best when you see them live, joking around on stage with each other.
Andrew Bujalski is an Austin-based filmmaker and one of the creators of 'mumblecore.' He's best known for his debut movies "Funny Ha Ha" and "Mutual Appreciation". The director, writer, and actor is stopping by to talk about his 2015 release, "Results."
Terance McDavid is an Austin-based comedian who has performed at Hell Yes Fest, Fun Fun Fun Fest, and SXSW Underground. Terance has toured the country with ATX Comedy Hour and hosts a weekly stand-up show at The New Movement.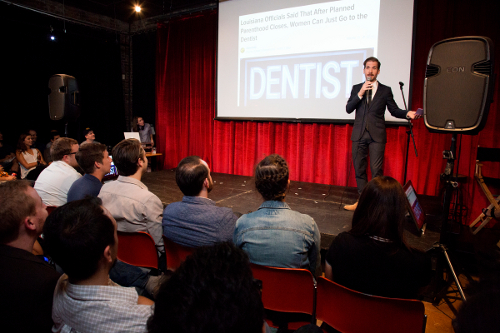 Bill Callahan
is a singer/songwriter, who has recorded under the name Smog and has been a guest on the Comedy Bang Bang! podcast (
Episode 258: Yoke Jams
). The Austin native currently has 15 albums under his belt and is signed to Drag City Records.
Details
You have once chance to see Late Night Basement this weekend. The show starts at 10:30 pm sharp so don't do that Austin thing, arriving late and what not. The show is free for 18+ Fun Fun Fun Fest wristband holders. If you aren't holding a wristband, all is not lost. They are accepting a few folks for a guest list hook-up but you need to send an email to LateNightBasement@gmail.com pretty quick. Please note the line up is subject to change.