Interview by

Article by

It's summer, and that means the Comedy Wham team is out and about, bringing you yet another on-location episode this week. It's a double-double as well; besides being a field interview, it's our second-in-a-row return guest, the enigmatic Jasmine Ellis.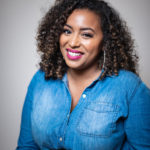 Enigmatic is a bit of an odd description for Ellis, I'll readily admit. Fans who saw her on Jeffrey Ross's Roast Battle at 2019 Moontower, the 3rd season of Standup Empire, or in her appearances like the You Look Like comedy roast showcase, will quickly jump to the honed and caustic wit she applies to her subjects (and herself) and may assume that's Ellis to the core. The same is very much true of her must-follow Twitter account, where she skewers self, country and world, but--and this is where the puzzle comes in--quite often lets a very personal lamentation or heartfelt expression of gratitude grace her timeline.
And that's really the mystery of Jasmine Ellis: where does this beautiful (inside and out) soul find the hook to turn her comedy lovingly vicious on a dime? I think the most simple answer, as usual, is correct: she loves it. Relating a particularly devious diss from the trip to the Roast Battle show, she talks about laughing so hard she almost fell out of the car she was attempting to enter. I'll remind the readers that this isn't a particularly difficult task, and such is the impact that a solid burn has on her.
So what's changed since Valerie Lopez last spoke with Ellis? Quite a bit, from continuing to push the balance of her day job--as a beauty consultant--and comedy, to, oh yes, getting married. Congratulations are due on both, and she sounds happier than ever. In addition to the previously mentioned appearances, she's opened for Michael Che (of Saturday Night Live Weekend Update desk fame) and Christina P (co-host of the immensely popular Your Mom's House podcast), hosted the Extra Salty podcast with Austin's Ky Krebs, and performed in Funniest Person in Austin contest three years running. And, in a personal highlight, has featured at the Hyenas comedy clubs in her previous hometown area of Dallas/Ft Worth, crossing off something that has long been in her sights, and has a special taste of validation.
All of these are signs that Ellis has gotten her arms around finding and focusing on her goals. In our last talk, she described her past as "chaotic", but today she couldn't sound further from it. "[At the time I thought] of myself as the intern running around dropping papers...[Now] I have a plan, and it's moving me forward," she says of the transformation: "Instead of proving to myself I should be a comedian, I'm just deciding how to be one now."
"Instead of proving to myself I should be a comedian, I'm just deciding how to be one now." Jasmine Ellis
Part of the key to this new road is a renewed fervor for a "take charge" methodology. She gives an example: "I can't decide if I can feature [at a show], but I decide if I can ask the club to let me feature." She's even got a vision board, ya'll; it doesn't get more serious than that. An overarching goal (one of many) is to finally shift her income stream from being a beauty consultant that does comedy, to a comedian that has a hobby in beauty. It's yet another rung on the ladder of personal accomplishment that--once climbed--further cements her transformation into the life she has her sights on.
And in comedy, no matter how large your name has been writ on a marquee, that means a devotion to the grind: working shows, perfecting your audience "detector", and slipping in new material to find the gems that will get shined up and become the new leads. Having her comedy especially crisp is doubly important at the moment as Ellis is on the way to recording and producing her first album, distributed by Sure Thing records. It'll be recorded live at Cap City Comedy on August 11th. She doesn't have the title yet; the comedian who describes her spur-of-the-moment set selections as a live "Choose Your Own Adventure", is making the choice to wait until it's recorded, to really capture the experience of how it all goes down.
There'll be something for everyone, but Ellis makes clear that some will be focused on giving a special experience to the ladies in the audience: "I believe women are absolutely hilarious, and I'm not an anomaly...[the album set] is geared towards women, and celebrating women, and...funny stuff that really connects and resonates with women". And, as befits major life events, she insists there'll be a party (or two), claiming in turns that it's because she's so "basic" and then "really extra"; you can hear the excitement in her voice as she pictures how the whole thing will come together.
"I believe women are absolutely hilarious, and I'm not an anomaly..." Jasmine Ellis
Ellis's Twitter bio is "Basically Complex", so maybe starting out by calling her an enigma wasn't too far off the mark. Either way, her combination of drive and ambition is unambiguous, and absolutely a thing of beauty.
---
Jasmine Ellis has a full slate of upcoming shows, and here are just a few. See more at JasmineElliscomedy.com, and be sure to catch her live album taping on August 11th!
July 3: Lafayette Wurst Biergarten
July 4th: Baton Rouge, No Show Comedy
July 5-7: Arlington Improv, featuring for Rodman
July 12th: Austin, Jazz Karen at Scott's Inn 8pm
July 13th: Dallas TX @ Stomping Ground
Aug 10th: Houston, The Secret group headliner series
Aug 11th: Austin, Cap City Comedy album recording
Interview by

Article by

MORE ABOUT
Jasmine Ellis