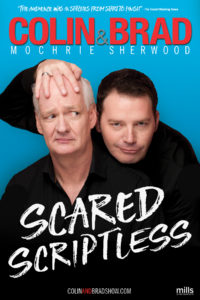 Interview & article by Richard Goodwin
In this week's two-part mini-sode, I got a chance to speak with two of most influential improv performers from my formative comedy-obsessed years: Colin Mochrie and Brad Sherwood. Mochrie and Sherwood were (and are) a key part of the ensemble on the beloved Whose Line is it Anyway?, and are touring the country with the latest version of their award-winning improv stage show, Scared Scriptless, playing at the One World Theatre on Friday April 27th.
At Comedy Wham we cover the spectrum of comedic performers, from stand-up to improv, to actors and beyond, and one of the topics that almost always comes up is the process of writing and content creation. So, you can imagine my surprise that while preparing to speak with Colin Mochrie I discovered he literally does not enjoy writing. Right in the intro to his (very funny) book, Not Quite the Classics , he lays it bare: it's just not fun for him. Of course, he goes on to write some fascinating twists on your favorite stories, including the very relevant short where Sherlock Holmes takes a turn at stand-up, so I asked him if he still really felt it wasn't in his wheelhouse. He granted that the first story (in fact, the Sherlock Holmes bit) came very naturally, but then things took a turn for the difficult. "I still don't know how Stephen King turns out thousands of pages a year", Mochrie says, and I agree...there's definitely something supernatural at play there.
So, improv and "just in time" creation of comedy is clearly where Mochrie's passions lie, and it's a drive that hasn't waned a bit. As he takes his craft all over the world, filmed and on stage, he remains amazed and thankful for the opportunity to literally create something out of nothing, over and over again. That doesn't mean there's still not a bit of panic involved, and he gives us a peek into the experience and process that have kept him in love with improv to this day, and how it also gives him and his wife a unique framework to expand the life they live and the world they experience.
I then hopped on the phone with Brad Sherwood who has--in addition to the shared Whose Line lineage--announced and been a panelist on game shows, appeared on countless episodes of the Jay Leno show, and has guest starred on iconic series like L.A. Law. He's also a skilled impressionist, something that I think many of us try, and very few of us should ever actually attempt in public, much less on the national stage. The Sherwood/Mochrie duo are a tightly tuned pair, clearly used to living in each other's mental worlds. "He tends to lie a lot", Mochrie warned me; "Colin just says that because I tell the truth about him", Sherwood counters.
Sherwood sees improv as a muscle you're constantly training, a martial art you have to be ready to deploy at any moment, for any period of time. He likens it to the thrill of skydiving: the rush as you're flying, and the satisfaction once your feet hit the ground. While I've yet to try that particular jump myself, the analogy resonates perfectly with the trust and confidence you have to have in yourself to make it on the improv stage. Sherwood, like his stage partner Mochrie, is a true comedic extrovert, in love with the social experience of making up new worlds for the audience every time the lights come up on the stage. And, for the record, I don't think he lied about a single thing, or else he's just that good.
Be sure and listen to the interviews for much more about improv, and living your life by creating one unique experience at a time.
Mochrie and Sherwood are not only talented performers, but two of the nicest and funniest people you could meet (and interact with at their shows!). So get out to see them on April 27th at One World Theatre in Scared Scriptless. It's guaranteed to be a once in a lifetime experience, as no two shows are ever the same. And stay up to date with them at the traveling duo's home on the web, ColinAndBradShow.com, Colin Mochrie's world at ColinMochrie.com, and follow them on Twitter, @ColinMochrie and @TheBradSherwood.