Giulia Rozzi is coming back to Austin. Last year she brought her one person show, Bad Bride, with her and made herself very comfortable at the New Movement Theater. This year, she left the show at home but found a comedy partner named Will Miles.
She's Back!
The New York City based duo are set to headline the New Movement Theater on October 6th. I mentioned in my article about Zac Brooks about how the New Movement Theater's avant-garde approach to comedy leaves room for very creative comedy shows., so ti's natural for Rozzi and Miles to want get to the cool little theater on 7th and Lavaca.
Giulia Rozzi is a huge fan of the story telling style of comedy. Her passion for the craft has landed her in and on a variety of media outlets, shows and programs. Here's a a piece from the press release, "She's [Rozzi] appeared on Tru TV's How To Be A Grown Up, Comedy Central's This Is Not Happening, Vh1, Chelsea Lately, The Jim Gaffigan Show, Playboy TV, and CNN. As a writer Giulia has worked on MTV's Girl Code and Silent Library, Bravo's Odd Mom Out and TV Land's Younger. She has also contributed to BUST Magazine, Esquire, xoJane, Playgirl, The Huffington Post and more. She has also performed and written two solo shows: Stupid Foreigners and Bad Bride (which recently toured to London) and also co-hosts the long-running nationally touring storytelling show Stripped Stories." Giulia Rozzi also has an ongoing web series called Seeing Other People.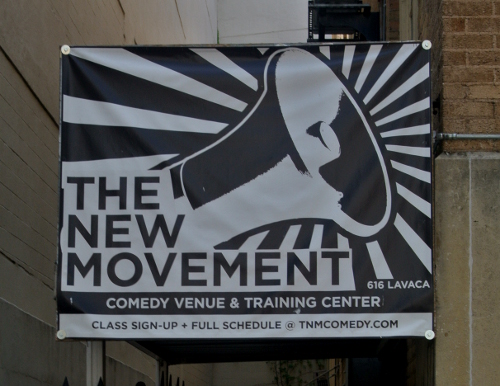 As for Will Miles, he's also been a busy bee. Originally from Chicago, Miles has been performing stand up since 2005. Within that time he's toured with... well, just read his part of the press release, "He's appeared on Tru TV's Friends Of The People and the Fusion Network. He has been featured on Hannibal Buress' My Name Is Hannibal tour and has worked with such acts as Aries Spears, Felipe Esparza, Eric Andre, Jerrod Carmichael, and Bill Bellamy. Currently he hosts the wildly popular Comedy At The Knitting Factory show every Sunday in Brooklyn."
Get to the New Movement
The show at the New Movement Theater isn't the only thing Rozzi has going on. She's teaching storyteller classes at the New Movement Theater on Wednesday the 7th. The two hour class is designed to teach people to twist their life stories into humorous barbs which will make the student the toast of any party. The last part isn't guaranteed. By the way, she's rumored to be performing somewhere else in town, but it's top secret.
[youtube https://www.youtube.com/watch?v=hMudsfoWjeU&w=420&h=315]
So there you have it, two possible opportunities to see Giulia Rozzi do her stand-up thing and one opportunity to learn how she does it.
The New Movement Show starts at 7pm and tickets are $10.00 online or $12.00 at the door.
The Story Tellers Class starts at 6:30pm and costs $50.00. There is a 10 person limit for this workshop.
Follow this site on Twitter: @comedywham