Interview by

Article by

One thing I love about comedy is when a "new to you" comic's set catches you off guard. From that moment, they have your attention. Recently I had one of those moments seeing Christian Van Wade for the first time. Van Wade recently moved to Austin from Portland, Oregon, after taking a break from comedy. Fortunately, I was able to convince him to sit down and discuss comedy with me and find out how he got his start.
Van Wade grew up in a family that appreciated comedy, watching Monty Python, The Simpsons, and getting his first taste of stand up from Eddie Murphy cassettes his brother brought home. Getting ahold of classic SNL episodes, Van Wade remembers being intrigued by Andy Kaufman's unorthodox approach to comedy.
Even with all the interest, it wasn't until high school theater while he was telling a story to the class that he was bitten with the bug to perform. The story was getting big laughs and riding on that buzz, as teens will, he decided to try doing a comic's bit that he had heard. It bombed. An early lesson about authenticity in comedy.
Van Wade does things methodically, and while he thought it might not be everyone's path, he decided to take a standup class. Watching other performers had given him anxiety, perhaps intuitively picking up on the nervous energy it requires to do comedy. Open mics being one of the most extreme examples of that nervous energy, (I have trouble watching them myself.) He took the class and got some experience before tackling the open mic circuit. It was around age twenty-five that he started the standup grind.

Van Wade gravitated to a more abstract style of comedy (Kaufman being such an early influence), but feeling the pressure to do a more traditional setup/punchline brand of comedy, he dropped his more natural style and challenged himself to adapt and evolve. Now that he's returned from his comedy hiatus, and some retreats with Ayahuasca, he has returned more to his instincts and started reincorporating the more absurd and abstract bits back into his arsenal. Van Wade is also not afraid to experiment with characters and more layered approaches to those bits. With a willingness to mix it up and try new things, he now often looks to not only the feel of a crowd, but the venue and space itself, to determine what type of set he wants to perform that night. For him, context is everything and he uses that to mold which trick in his arsenal he wants to pull from.
Van Wade also writes and produces some hilarious shorts. That layered comedic approach he takes on stage also makes its way onto the screen. His latest short, Nature Scene, showcases just that. The ridiculousness of pretention up against the MAGA culture. I cannot tell you how many times I have watched it. It has become my new go-to for fighting bad day blues.
You show your influences and that's fine.
Christian Van Wade
One major lesson Van Wade has learned along the way is to give up the obsession with originality. As Mark Twain once said, "There is no such thing as a new idea," and Van Wade had to learn that lesson after years of scrapping jokes and bits if they had even a hint of homage.
Coming to the conclusion, "You show your influences and that's fine." Given what I've seen so far, I'd say it's more than fine...it's hilarious.
Christian can be seen:
Slaughterhouse Presents Comedy Night - Showcase on Friday March 20th 9pm at Little Woodrow's Southpark

Follow Christian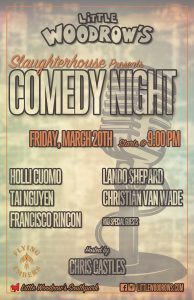 Interview by

Article by

MORE ABOUT
Christian Van Wade
cvricks