Guest column
This week we debut Rochelle's guest col­umn ​"Rochelle Takes on Com­e­dy". We're excit­ed to launch our ​"Columns" and thrilled that Rochelle is our first guest colum­nist! Have an idea you'd like to share in a col­umn? Sub­mit your pitch here: comedywham@​comedywham.​com
I'm here today because I refused to be unhappy. I took a chance
Wanda Sykes
Hi hi! Who am I?
I'm Rochelle McConico, owner of MoonCricket Productions, a live comedy event company. I am a standup comedian, improviser, sketch actor, writer, director, producer and podcaster. Okay, that's a lot, but basically think of anything comedy related and I do it.
I am writing for Comedy Wham because they decided - perhaps to their lasting chagrin - to give your girl a chance. Shout out to Valerie Lopez for the work she does to aggregate data for us lowly comics and to bring in the audiences we need to fulfill our deep-seated desires to do more than shout into the void.
Who are you?
If you're reading this blog - and you are - you're the kind of person who wants insight into comedy generally and the Texas scene specifically, wants to laugh and connect, and likes weird, slightly off kilter, not so politically correct comedy. And you're in the right place.

What's in this blog?
Insight into the ups and downs of being a comedian.
I'm going to share my personal journey with you. Sometimes it'll be pretty, but I'm a comedian so it might get pretty dark. Buckle up and enjoy the ride.
An understanding of how comedy and the comedy business works.
According to me, that is - remember to check your source. But... the things I learn along the way about how to connect with audiences, network, navigate this business, and most importantly make people laugh, I'll share with you.
The skinny on shows around Texas.
I will cover local shows, mostly in the Austin metro area and surrounding cities, but you never know where you'll find me. I'm like Where's Waldo if Waldo was fat, black, and three-dimensional. I'll spotlight some local shows and comics you should be checking out. And to that end, invite me and I'm there! I'd like nothing more than to see a good show and support local artists.
What do you do?

Read and enjoy. And know that this blog is interactive. Please feel free to leave a comment, or let me know of a show I should go see by hitting me up on IG at @rochelle_war or on FB: MoonCricket Productions LLC.
We're on this journey together and I hope something written here will help you along your path. Cheers!
Now let's get into it!
This Week's Randomness Packaged as Insight
Do you deal with anxiety?
I do. I mean it was hard just to get myself to write these sentences. Not because I cannot write them but there is a lot of hemming and hawing that goes on behind the scenes. I swear I want to write, perform and produce at a high level but sometimes that Crazy B*tch in my head gets me all turned around.
Can you relate?
I think that behind the scenes of every great writer, comic or creative is the demons they live with - the fear of failing or succeeding, the worry that they won't continue to outpace what they're running from, or worse, that if they do successfully vanquish their demons, then maybe they won't be funny or creative anymore (see Kanye West).
Then there is the big worry that hounds most people but is usually exacerbated in the creative. Money. Comedians are the working poor. All of us are looking for our big break while trying to make the gig economy sustainable - which it isn't. Let's just be real. No amount of Uber driving is going to get you out of poverty unless you are getting paid for more than one type of ride. And even then… you've got to be really talented. Oh and have a good network. It's like selling Mary Kay or Cutco knives but you know... with your genitals.
Completely unrelated: my Venmo is @Rochelle-McConico, and my CashApp is $rochellemcp. Now back to the article.
Having anxiety makes sense. Our demons. Our empty wallets. And let's not leave out that comedy is a competitive sport. We do it to be the best. To get to the top. When another comic kills it, we're happy for them, we give them a fist bump, and then fantasize about Nancy Kerrigan-ing them in the parking lot. The only thing that stops us is that if they are really good, we might just be giving them more material to slay the crowd with. (Or is that just me?)
*Clears throat
But through all the anxiety, there is magic. There is something captivating about grabbing the mic, sharing yourself with the crowd, and hearing them laugh. You get to play conductor. Harnessing the collective energy in the room, making a connection, and bursting the bubble of the crowd's expectations. It's a high that I haven't found anywhere else. Comedy is magic. And for that, I come back again and again.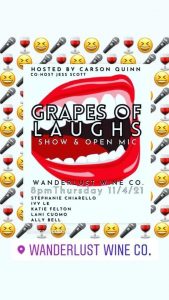 This Week's Show Review and/or Shameless Plug
This week I saw Grapes of Laughs produced by Carson Quinn and co-hosted by Jess Scott. It's a new monthly show housed at Wanderlust and it's a women-led comedy show. This show is a showcase and open mic so you get to see longer sets, a curated show, and then some dope open mic-ers. It was wonderful to see women shine. One lady in the bathroom, (that's right, I quote people I met in the bathroom) said she has gone to a lot of shows with her boyfriend and gotten a lot of male perspectives, but this is the first time she really got to hear women on the mic and she finally enjoyed herself.
Right on! Ladies, keep doing what you're doing. I'm excited to see what else is coming up. The ladies who performed are below. Follow them… on IG, not to their cars.
Next month - Dec. 2nd - I'll be co-hosting so come out and enjoy some wine and comedy.
Alright y'all I'll see you next time! Please feel free to leave a comment, or let me know of a show I should go see by hitting me up on IG at @rochelle_war or on FB: MoonCricket Productions LLC. Thank you Comedy Wham for the platform. You rock!
PS: Did I mention my Venmo is @Rochelle-McConico, and my CashApp is $rochellmcp? Just in case you were wondering. Cheers! [Hi, it's Comedy Wham, and we can confirm that you did]
About Rochelle McConico
Rochelle McConico is the founder and CEO of MoonCricket Productions a live entertainment company specializing in interactive, multisensory comedic events. She is a visionary, writer, producer, and performer. In June 2020, Rochelle launched the Amuse-Bouche Comedy Festival to showcase the many great improvisers, comedy podcasters and stand-ups in New Orleans and performed as all three.
Rochelle also wrote, directed, and starred in three plays centering her alter ego character, billionaire media heiress Stangela Angela Hemsworth Kingsley Winthrop Farouk Adams III. I'm Only Here for the Snacks, and Stangela for President were both featured at Infringe Fest 2018 and 2019. Her third play Stangela's Swamp Thing is currently in production and premieres June 2022. Rochelle also co-produces and co-hosts the comedy-advice video podcast Not Another Black Show and a bi-monthly live-streamed show - The Bookclub. Both shows are designed to take on serious topics and be seriously funny.
Additionally, Rochelle is a member of the multi-talented No Lye Comedy collective - a group of dynamic Black femme comedians. With No Lye Comedy, Rochelle co-produced and co-wrote the sketch and variety show Comedy.Peridot, performed sketch in the Dallas Comedy Festival and the Los Angeles Diversity in Comedy Showcase (LADC), and performed improv in the inaugural 2019 New Orleans Improv Festival and 2021 Baton Rouge Improv Festival. Rochelle has also written and performed for Morphed, a monthly stand-up and sketch show in New Orleans, and performed stand up in the Black Girl Giggles Festival.
Column by