Interview by

Article by

Some people are just destined to entertain people, in whatever form it takes, performance is a driving factor. I think it would be fair to say Robert Segovia is one of those people. Born in Indiana, but growing up in Southeast Texas (yes, my neck of the woods), Segovia had the cool parents that would let him stay up late. He points to that as a common thread of creative people and I have to agree. He remembers having only one major rule in his house. Any subject was open for discussion with his parents, just "don't be dumb." Education and culture was priority. I can attest to that as his mother was my beloved high school theatre teacher and took that same approach into the classroom.
Watching Carson and Saturday Night Live at a young age, Segovia remembers doing an opening monologue to warm up the imaginary crowd for his cousin named, you guessed it, Johnny.
As with so many teens, music began to take more of Segovia's interest. Growing up a Mexican kid in a predominantly white area, Segovia says, "there seemed to be people who looked like me who were doing it [music]." So for the next almost twenty years, playing and fronting bands became his focus. Segovia saw much success with his Austin band, La Snacks. But after ten years with the band, Segovia grew weary of the toll the lifestyle was taking on him. Now in his 30's, comedy began to creep back into his life.
"Music has critics...comedy doesn't have that, so I think that what tends to happen is that people tend to become their own critics." Robert Segovia
Segovia attributes his return to comedy to the desire to still be on stage, without having to rely on a band. He decided to do an open mic at Coldtowne and despite it going really well, he didn't try stand up again for two years. Segovia was actually booking a show for SXSW and looking for comics when friends Rob Gagnon and Joe Faina both independently suggested he do comedy. Recently, he just celebrated his fifth year of getting back into stand up.
For Segovia, he enjoys improv, but admitting it's not his strongest tool, he seems to prefer sketch and stand up. Having taught workshops and classes, Segovia has spent a good amount of time in all three. The draw of stand up was that it doesn't rely on anyone else, unlike music, sketch, or improv. The challenge to stand up: being yourself. In sketch he could hide behind characters. When he first started writing sketches, Segovia admits,"I would write them for…the white people because I'd only seen white people on TV, and I didn't really think there was an experience that I would have as a mixed person that would be an experience that anybody would want." That made it a challenge to write for himself and find that voice in stand up. Something seven years into sketch and five into stand up, he seems to now feel comfortable with.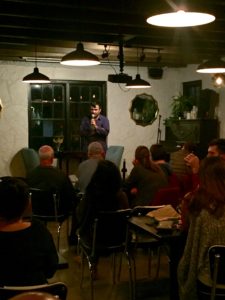 Segovia offers an interesting take, having worked in music and comedy, as to why comedians are so critical of themselves. "Music has critics," adding "comedy doesn't have that, so I think that what tends to happen is that people tend to become their own critics." Pointing out that publications such as Comedy Wham may write about comedy, but "there's no Roger Ebert of comedy."
There's another aspect to Robert Segovia, the entertainer, we haven't touched on and that's behind the scenes. Almost two years ago, when The New Movement fell to controversy, Segovia went to an emergency meeting, in hopes of finding a way to save the space. From that meeting, Segovia and other interested parties came out of it with a literal vested interest. Segovia is now part owner, as he and four others purchased and saved the space. The Fallout Theater,now a little over a year in, is a thriving space downtown. As evident by their much larger presence at Moontowerthis year. With this additional role Segovia has learned more about the business and with it the desire to expand programming at The Fallout Theater.Now moving into corporate workshops, opportunities seem to abound for the flourishing space.
This, paired with winding down Horse Milk, his sketch group, planning another stand-up tour, and running The Comedy Batch, his monthly show at Batch Craft Beer & Kolaches, is keeping Segovia quite busy. You would think owning a theater, running shows, and planning a tour might be enough, but Segovia keeps saying he wants to do "more of everything." We're excited to see what that brings. Let's just hope we can keep up!
You can catch The Comedy Batch the second Saturday of every month.
Interview by

Article by

MORE ABOUT
Robert Segovia