Interview by

Article by

2019 Moontower Comedy Series
A lot of people can't tell you what they'll be doing in five years, but Josh Adam Meyers has a pretty good idea of what he will be doing. Born in Baltimore, the comedian and creator of The Goddamn Comedy Jam (GDCJ), has made an epic podcast commitment, but we will get to that. We sat down with Meyers, as he was at his fourth Moontower Comedy Festival, where the GDCJ has become a staple and fan favorite.
Josh Adam Meyers had been a "New Face" at the 2013 Just For Laughs in Montreal. Following that, he saw his peers getting bigger opportunities that just didn't seem to be happening for him. It was out of that frustration that he turned to his passion for music and created The Goddamn Comedy Jam. With help from the band Elemenopy, the jam has been a great success, seeing invites to most major comedy festivals and, if you're lucky enough to catch it, the occasional show in LA. It is so audience interactive and also gives comics the chance to live out the dream of being a rock star! With its success, now almost five years into GDCJ, Meyers seems to have gotten his stand up mojo back and has been able to start focusing more on sets again.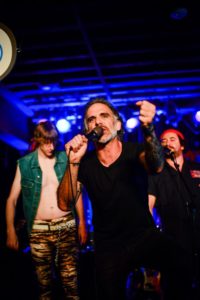 Meyers attributes a lot to his friends in comedy offering solid advice and just being good people. Meyers says, "They're good guys that worked their ass off to get to a place. And they taught me it's the work, it's love the work, because all the reward means nothing if you don't love the work. Every day is Christmas, if you love what you do." One of those good guys is Bill Burr, who Meyers feels very close and grateful towards. Burr suggested Meyers's gravelly voice would be perfect for the character DJ Howlin Hank on Netflix's F is for Family, and he was right!
With Meyers's love of music, it's not shocking that he would be a great fit for a music podcast, but as he doesn't seem to do anything small, he has taken on quite the musical endeavor. The 500 launched at the end of October 2018 and is taking a new album each week from Rolling Stone's 500 Greatest Albums of All Time, listening to, dissecting, and discussing it with a guest (often, but not always a comic). Meyers puts hours of research into each album and handpicks the guest, based on their relationship to the music. It's a fantastic way to get to know the guest as well as the album, as they share memories and stories, and sometimes shock at a hidden meaning Meyers uncovered in his thorough research. Meyers has committed to see the project through, along with listeners aka the #fleecearmy, to the end slated for May 31, 2028.
"...all the reward means nothing if you don't love the work. Every day is Christmas, if you love what you do." Josh Adam Meyers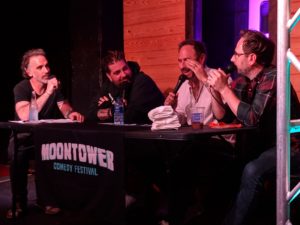 On a personal note, I've seen the way Meyers melds his passion for comedy and music to create such a connecting, almost religious, experience for the comedians and the audience. This year's final Moontower GDCJ ended in Meyers encouraging a group hug from crowd to stage and it was an emotional and beautiful experience. I can't tell you what will be happening in the year 2525, but I can tell you what I'll be doing in 2028. Listen to The 500 wherever you get your podcasts and be sure to keep an eye out for any place you can see The Goddamn Comedy Jam live, such as Moontower Comedy Festival 2020!
Interview by

Article by

MORE ABOUT
Josh Adam Myers