Interview by

Article by

While I love exploring comedy with people, and interviewing them to share with the world, occasionally, I will meet someone that--regardless of recording--I just want to talk to them and hear their stories. Last year I found myself in conversation with Mario DiGiorgio after a show at The Velv. I should add that he was there as a spectator, as this followed the changing of the guard to its new manager, Pat Dean. Based on that conversation, I knew I wanted to sit down and hear more from Mario DiGiorgio, on or off the record. Lucky for you, he recently agreed to the former.
DiGiorgio had recently returned to the stage for season 22 of Punch after a long hiatus from stand up. His set instantly grabbed me. His style hit me in the core of the influences that I had always loved, even from childhood. Within minutes of sitting down with DiGiorgio and his adorable dog Lemon (recovering gracefully from heart surgery), I was bouncing up and down like a child, as he rattled off a lot of his early memories of comedy and influences. DiGiorgio references Rich Hall's Sniglets and the familiarity I had been feeling immediately makes sense. Our sense of humor comes from the same well of "greats".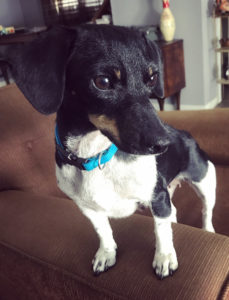 Born and raised in New Jersey, DiGiorgio grew up in a family filled with humor. The men had dry wit and absurdity, and the women geared their humor to a more goofy style. Add to that a grandfather with a love and flair for puns and you can see the formula for Mario DiGiorgio's comedic style. DiGiorgio speaks fondly of his parents and his childhood. He remembers being extroverted as a young child, with a big circle of friends.
However, in a perfect storm of adolescence, DiGiorgio recalls in sixth grade his "nose got bigger" and his family moved about 30 minutes away. Being the "new kid" at such an awkward age turned DiGiorgio into an instant introvert. That change was lasting, despite getting into stand up. As DiGiorgio puts it, "I didn't get on stage because I wanted to be the center of attention, I wanted to get on stage to see if people laughed at the shit that I wrote." DiGiorgio originally moved to Austin to write screenplays, but got pulled into stand up by his pal, Justin Sanders.
"I didn't get on stage because I wanted to be the center of attention, I wanted to get on stage to see if people laughed at the shit that I wrote." Mario DiGiorgio
Mario DiGiorgio describes his stand up beginning as having been "shot out of a cannon and then plateaued." His first open mics went well, he won Funniest Person in Austin after only eight months in comedy, and was on a Montreal showcase less than two years into his career. He moved to New York quickly; "too fast", as he puts it. DiGiorgio does feel that his inexperience did have its advantages adding, "I was better when I was naive, you know, when I didn't have too much to compare myself to." DiGiorgio was getting passed at big clubs before he even knew what the term meant.
DiGiorgio spent a few years in New York, but each time he returned to Austin he wondered why he left. In 2003, he finally moved back to Austin and made it his base. He became a road comic for nine years. He and his beloved dog, Oscar, toured the country and worked with greats like Maria Bamford and Jimmy Pardo.
As writing was his first love, DiGiorgio also self-published a book, A Cynic's Guide to a Rich and Full Life, which was later published by Last Gasp. It sold well and excerpts played well to audiences. Lampooning the inspirational quote books one might find in your mother's bathroom, it was a perfect addition to a library that included Sniglets or Deep Thoughts by Jack Handy.
After so many years on the road, DiGiorgio returned to Austin and soon took over The Velv. He put his touch into the venue, overseeing updates in the design and aesthetic of the room. The Velv was able to marry so many of DiGiorgio's personalities together: comedy, the service industry, design, and t-shirts. That's right...we haven't even gotten to t-shirt design yet.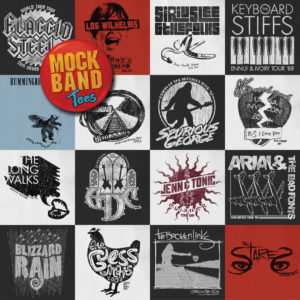 Shortly after DiGiorgio moved back to Austin he started OK Tees (One Kolor Tees). This business has allowed DiGiorgio the ability to continue to write comedy, design, and market humor in a wearable form. Parts and Labour on South Congress quickly took to his style and have been carrying OK Tees ever since opening in 2004.
With DiGiorgio leaving The Velv after four years at the helm, he has graced the stage a handful of times, but the passion to return to stand up just doesn't seem to be there right now. DiGiorgio's latest project of Mock Band Tees seems to be what brings him the most creative joy these days. Combining band homages with puns, clever plays on words, and overall kickass designs, DiGiorgio seems reinvigorated to create this as his new chapter. One can only imagine what the next creative chapter will bring.
Interview by

Article by

MORE ABOUT
Mario DiGiorgio