Interview by

Article by

Truth be told, I don't get out to as many shows as I'd like; blame it on old age, having had a teenager at home until recently, or poor planning skills. Those times I do make it out, there's a better-than-even chance that--along with a familiar comic on the stage--there's a pair of friendly faces in the sea of the crowd, the sisters Watts: Leslie and Bethany.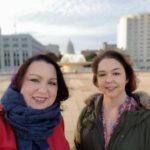 Come to think of it, I pretty much have to cross all my excuses off the list, because the Watts sisters seem to have developed an almost supernatural ability to get out and about to see comedy at a clip that never ceases to amaze.
Raised on a steady diet of late night shows like David Letterman and Saturday Night Live, courtesy of their parents, the sisters were quickly enamored and soon began sneaky--it turns out the parents were a little strict after all--late night viewings of the comedy specials that arrived in a wave as the 80s and 90s exploded. This was also the era of landmark comedy movies that we share a common love for, like Spaceballs and Three Amigos.
As Lara Smith discovers in the interview, it wasn't actually comedy that was their first performance and travel obsession. Leslie, the younger Watts, was a zealous music fan, traveling across the country to catch almost every performance of her favorite bands, like The Smashing Pumpkins. No slouch herself, Bethany says she was along for more than half the rides.
It wasn't exclusively a musical quest, with attendances to comedy festivals becoming a more regular occurrence. A turning point came a handful of years ago, where--after seeing Steve Rannazzisi have a shaky performance on Comedy Central--they happened to catch him live at Cap City Comedy. Leaving that show, the difference between seeing someone on the "big screen" (or "big stage") and an intimate environment really highlighted the varied spectrum of skills and styles you can see, even from the same performer. It was actually the grace with which he handled the aforementioned bombing of a roast battle that got them out to see him.
The interest and excitement that woke in them is truly the mark of a great obsession: being able to alternate between relaxed enjoyment and rapt attention and observation. The Watts sisters started devouring their passion with...well, passion. As they tell Lara, there were periods where they were seeing 5 shows a week, before settling down to a more "reasonable" 3 or 4 weekly.
Add to this healthy obsession a shared love of travel, and you'll quickly catch that Austin--as rich a comedy scene as it is--became the home base to a world of voyages and comedy venues. Born in Germany and having moved early to the US, Bethany and Leslie were no strangers to exploring lands near and far. They've hit great scenes like New York, Denver, and Phoenix, often multiple times. Sometimes the draw is a new or familiar club, a favorite performer, or--just as often--a planned locale, with the possibilities of discovering a new comedy experience simply a part of the mix. Their most distant point to date? Iceland, a vacation with the excuse of seeing Ari Shaffir a deftly inserted premise.
How do the Watts sisters manage all of this? Well, in the vein of our own highly organized Valerie Lopez, the sisters are expert planners, keeping detailed calendars and notes of past and future shows; they can pull up exact records in a pinch, knowing how many times they've seen even a given comic, in case the dilemma of making a show trade-off comes up. They share a home, and Leslie's nursing and IT career, with Bethany's role teaching social studies, means they can plan and maximize their common downtime. "If I don't have a vacation scheduled on the book somewhere I get a little antsy," Bethany notes. Staying in constant motion, consuming content, is something they've chosen to make a priority to integrate into their lives.
"If I don't have a vacation scheduled on the book somewhere I get a little antsy." Bethany Watts
This means Bethany and Leslie also have an encyclopedic knowledge of performers and their material. "We're not at a point [after seeing some comics so many times] where I can literally mouth their sets with them," Bethany says. But far from this making the experience less interesting or exciting, the sisters find this kind of immersion engaging, approaching comedy from what they call an "anthropological" perspective (a phrase gifted to them by the famous Sklar brothers). Seeing a fresh new act is as fascinating to them as watching the same performer iterate and refine and perfect a bit of material. "I think we just really appreciate authenticity in comedians and..their approach on things," Leslie describes it. Take Shaffir as an example: how many people can say they've seen the same comic in New York and Iceland, and experience the differences in the performance and wildly varied setting and audience? (Bethany can likely even share a drawing of the layout of the clubs. Did I mention how detailed they are?)
"I think we just really appreciate authenticity in comedians and..their approach on things." Leslie Watts
For some, that might be a life-defining trip, the story you break out at every dinner party. For Bethany and Leslie, it's just one of a seemingly endless (they have no plans to stop) series of adventures. They share handfuls more with Lara, recounting far flung locations, mixed right in with their love of Austin traditions like Moontower Comedy Festival and Cap City Comedy. Even at length, you can tell they've shared just the tip of the iceberg.
That kind of dedication and spontaneity (the sisters talk about the "high" they catch when building a plan for a new show and destination) tells you exactly what you need to know about their love of the art. It's a pure and fervent relationship with comedy, one they continue to build with purpose and never ending curiosity. "We're drastically different people," Bethany explains, but there's nothing but unity in the excitement they evince when talking about their favorite subject. The Watts light up with laughter and energy telling their tales, and there's not a hint of that waning any time soon.
So the next time you're at a show, waiting in line or getting settled before the lights dim and the stage lights up, look to the back of the crowd for Bethany and Leslie Watts. They just might be there, comrades in comedy arms with you, ready to absorb their next experience (and possibly already scheming about when they'll see the show next).
---
Stay up to date with the Watts sisters, as they plan and go on new adventures, on Twitter and Instagram.
Interview by

Article by

MORE ABOUT
Bethany Watts