Interview by

Article by

Fresh off our Altercation Fest interview with Kristine Levine, we were lucky to grab some time with another Altercation performer, Daniel Humbarger. It's been a busy year for Humbarger; he has a new album, Funny Bones, out on Stand Up Records, and just did a mini-circuit of Texas with Johnny Taylor, which they jokingly refer to as the Mess With Texas tour. He's also back from an amazing extended experience playing at Edinburgh Fringe Festival.
Humbarger started life off in Arizona, but quickly racked up an impressive number of miles and experiences, with his family moving through multiple states and him through 11 different schools by 6th grade. In the midst of his nomadic upbringing, Humbarger found the time to catch the performing bug, trying his hand at plays, and lip sync'ing in talent shows.
He shares another early memory, one near and dear to me: emulating Dukes of Hazard with his Big Wheel, with the addition of an unexpected faceplant. (I also Rode the Wheel, but had my own special memory of planting my face quite spectacularly onto a space heater while being a very unsuccessful Superman.) When the family finally landed for an extended period in Sacramento, it was just the start of several new "lifetimes", as he refers to them while talking with Lara Smith.
Sporting a tattoo from the era to remind him always, Humbarger recounts how his first "lifetime" was as a rave DJ. There's a stage, and an audience, so let's call this his first performing gig. While great fun, it doesn't really pay the college bills, so Humbarger soon embarked on his next life, as a loadmaster in the military. Unfortunately, the regimented life didn't suit him, and he took a graceful exit as soon as the option was available.
There was a taste of the future here though, as he did briefly start his standup pursuit, trying open mics, and even attending a Last Comic Standing audition. It was encouraging, and he got great feedback, but didn't move on in the competition, and ultimately decided to stay the staid course and try to build a professional career.
Which brings us to the final pre-comedy life, and which surprisingly isn't a first for a guest we've spoken with: law school. It seemed like a good choice at first, and Humbarger actively worked as an intern, then a practicing attorney in corporate bankruptcy for a few years.
"I've never been afraid to say 'Fuck it'" Daniel Humbarger
It was a domain that didn't suit him at all. "I was a glorified bill collector...you can imagine how much I hated that," he tells Lara. In one of the better "how to quit your job" stories we've heard, he decided to close the door on that job. "I've never been afraid to say 'Fuck it'," he says of the experience. He tried another legal focus for a time, but comedy continued to beckon, and 7 years ago he decided it was a call he just couldn't ignore. "It wasn't dying with a big house or a nice car….I have to see if I can make this happen...if I don't try, and I'm on my deathbed, I'll hate myself," Humbarger recalls.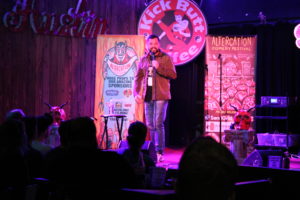 So, even with days as a successful attorney, winning meaningful cases, building up under his belt, they never felt quite as meaningful to Humbarger as the experience of stage comedy. They do have some interesting parallels, as he notes: "I picked the two jobs where, if somebody at a party finds out what you do, they want you to do it for free." It was around this time he met Johnny Taylor, who remains a friend and colleague to this day. He started building his roster of mic and showcase experiences, including hosting his own with Taylor.
Funny Bones
came out earlier this year, and Humbarger was working part time as a videogame designer, when the opportunity to perform at Edinburgh Fringe Fest presented itself. He knocked out an impressive 40 sets in 20 days, rapidly cycling between established sets, localized and topical material, and practiced that most coveted act of the entertaining business: networking. He shares some memorable moments of Edinburgh with Lara, including one of the last things you want to happen during a set, and possibly the most smooth recovery you can make when that situation is sprung on you.
"I picked the two jobs where, if somebody at a party finds out what you do, they want you to do it for free." Daniel Humbarger
It seems that Humbarger's fourth life is suiting him well; "It's not always life in paradise," he admits, "but I'm happy." He's had some amazing experiences in Liverpool, and is headed back to California soon for a spell, to do more outreach, and attack his goal of building material and taking a return run at the UK.
With many lives behind, and possibly even more ahead, maybe it's actually the fourth time around that's magic, after all.
---
Get more of Daniel Humbarger's fourth life into your life by visiting his newly minted site, danielhumbarger.com. Get his album Funny Bones from Standup Records, and follow him on Instagram and Twitter.
Interview by

Article by

MORE ABOUT
Daniel Humbarger