Interview by

Article by

It is said when the student is ready the master will appear.
That is the feeling that Valerie Lopez and I had when we first saw a live recording of Stuart Goldsmith's The Comedian's Comedian Podcast at this year's SXSW. From the very first taping featuring guest James Davis, we realized that we weren't just watching a live podcast, we were watching a master class in what we always try to bring our listeners at Comedy Wham Presents. From that moment, it was our mission to see as many episodes as we could during his brief time in Austin and even try to sit down with the man himself. Upon our very first meeting, Goldsmith was kind and approachable, as if he wants to connect with every person in the world. And it seems he does, as he generously offered us time for an interview, amidst his hectic SXSW schedule.
Early on in his teens watching street performers gave Goldsmith the idea, "I could do that!"Stuart Goldsmith
While Stuart Goldsmith may not yet be a household name in the US, across the pond (you knew we had to work it in) he's quite an accomplished standup comedian. Early on in his teens watching street performers gave Goldsmith the idea, "I could do that!" Figuring out the trick to walking on broken glass, Goldsmith advises "don't try this at home," but that's exactly what he and his pal did. Combined with the juggling he already knew, a few more tricks and they were busking on the streets in no time. Goldsmith went to a fairly strict school, which he detested, so performing on weekends was a great escape. At the age of 18, he even went to circus school to add to his skill.
But when your earning potential relies on building an immediate and fresh audience constantly, you learn the art of charisma, showmanship, and in Goldsmith's case comedy. He was really bitten with the comedy bug when a drama group he performed with went to the Edinburgh Festival Fringe. He would do street performance and then attend as much standup comedy as he could afford from his earnings. He wanted badly to perform, but a fear of heckling kept the desire at bay for a while. Finally, desire won out and he just had to give it a try. He recounts after his first set the feeling of instantly realizing this was what he was always supposed to do. He continued street performing for a time, but began working more toward standup, carefully and craftily keeping the two separate.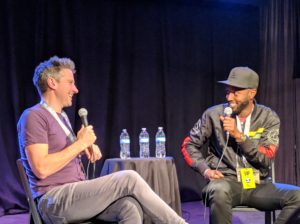 A combination of feeling he had been poorly interviewed on a comedy reality television show and wanting to know more about the art of standup, Goldsmith started The Comedian's Comedian Podcast in 2012. He had not had any formal training in the art of standup and hoped to gain tips and insights from his experienced guests. However, having struggled with depression and anxiety, he also had a desire to connect with his guests on a deeper level and raise awareness of the mental health struggles that plague so many comics and non-comics alike. Goldsmith created the recipe for a beautiful and intriguing interview format, mostly because he actually listens. He will allow a question to hang uncomfortably in the air, if it must, to allow guests to give genuine and unguided answers. While Goldsmith started the project for himself, comedians, fans of comedy, and those who hope to become comedians have grown him an avid following. Raw at times, but often heartfelt and vulnerable, The Comedian's Comedian Podcast is everything a comedian, fan of comedy, or just plain fan of humanity could hope for in a show.
Interview by

Article by

MORE ABOUT
Stuart Goldsmith