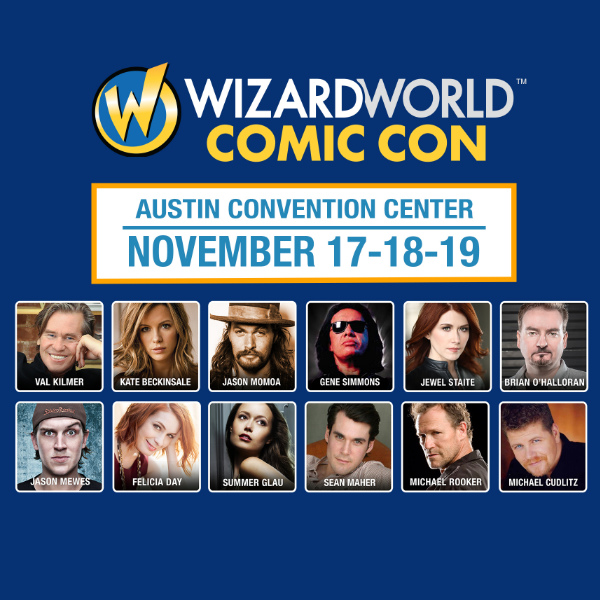 We interview and review all kinds of performers and shows, and are pretty huge fans ourselves, so we jumped at the opportunity to work with WIZARD WORLD to give our listeners and readers a special gift:
WIN FREE COMIC CON TICKETS!
That's right, WIZARD WORLD Comic Con is coming to Austin November 17-19th. This year's lineup includes Jason Momoa (Justice League, Game of Thrones), Kate Beckinsale (Underworld, Van Helsing), Val Kilmer (Batman Forever, Top Gun), Felicia Day (Supernatural), Michael Rooker (Guardians of the Galaxy), and many more.
We're giving away a pair of full 3-day passes to Austin Comic Con, absolutely free!
To enter, all you have to do is:
Click the link below to tweet your love for WIZARD WORLD Comic Con and Comedy Wham:
Tweet: I want to win @WizardWorld Comic Con 3-day passes from @ComedyWham! Supernatural, Firefly, TWD & more, here I come! http://bit.ly/wincctix
then...
Follow @ComedyWham on Twitter so we can message you if you win!
We'll pick a winner at random (using highly sophisticated maths and such), and they'll be notified by November 13th.
And if you don't happen to win, be sure and use the code AUSTIN20 to get 20% off your tickets at checkout at http://wizardworld.com/comiccon/austin
(And ask your friends to retweet you for more chances to win!)