This year's 5th Annual Moontower Comedy Festival packs a strong punch. As with last year, the same fear of missing out will happen when my friends and partners in crime at Comedy Wham rave about something fantastic they saw. That's okay, I bet I'll still witness comedy history with my picks, too.
Jay Pharoah
Last year, I was excited to watch Saturday Night Live cast members Leslie Jones, Colin Jost and Jon Rudnitsky (who has since left the show) perform at Moontower. I grew up watching SNL, never missing a single episode, and love the lore and history. Sure, Pharoah left SNL ahead of its current season (he started as a feature for the 2010 season), but his impressions were amazing and he can claim to his credit that he was SNL's President Obama. The reviews of his live comedy shows are always incredible, so I know I can expect an amazing experience to laugh and escape the world that the real, and the SNL, Obama left behind. I hope he opens with "Attention teachers and students..." for old time's sake. Pharoah has one show this year. Get in line early at the Paramount Theatre early for his 9:30pm show on April, 20th.
Ali Wong
I'm a terrible critic sometimes. I generally can't stand watching comedy specials on TV. You know which comic finally broke me of that? Ali Wong did. Her now famous Baby Cobra special (unique in that Wong recorded while nearing her delivery date) available on Netflix was one of the most riveting pieces of recorded comedy that I'd ever seen. Since releasing that special, she has sold out shows across the country consistently, which means seats will fill up fast at the Paramount Theatre for her shows on April, 20th at 7pm and April, 21st at 9:30pm. I can't wait to see her perform live (sans the belly that endeared me to her, I presume).
Brad Williams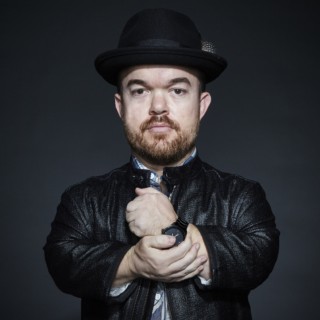 I missed seeing Brad Williams last year but lucky for me, he's coming back and I get an opportunity to right that wrong. He'll perform both solo and with his About Last Night podcast partner, Adam Ray. Technically, I did see him last year in an impromptu mosh pit that formed during Big Jay Oakerson's performance of a Pantera song at the Goddamn Comedy Jam. His enthusiasm while moshing was so memorable, I literally slapped my forehead when Lara told me she had caught his show and how amazing his comedy was. I won't make this mistake twice. Williams is busy this year at the Moontower Comedy Festival. It's best to click this hyperlink to track his schedule.
Patton Oswalt
Patton Owaslt is royalty to me. He not only shines as a comic, writer, and actor, but his political and social commentaries (if you're not following him on Twitter, do so immediately) always lands perfectly. A powerhouse in every way, Oswalt was dealt with a terrible blow last year when his wife of 12 years, Michelle McNamara, died unexpectedly. Oswalt shared his pain very publicly on Twitter before going private. It was a very humanizing moment and the pain he expressed still moves me to tears today. I feel like being in the audience for his show is a small gesture of kindness toward him, let alone a chance to witness someone who has reached levels of success that only few can reach. Oswalt headlines the Paramount Theatre on April, 22nd at 9:30pm.
Podcasts, Podcasts, Everywhere Podcasts
The Moontower Festival organizers have keyed into the fact that many comics hone their skills by hosting podcasts and the audience for podcasts is growing which means a growing demand for live podcasts. And wow is Moontower delivering on that demand! The big one for me and it's the one kicking off the festival on Wednesday night, is the My Favorite Murder podcast hosted by Karen Kilgariff (Mr. Show) and Georgia Hardstark (Cooking Channel). Kilgariff and Hardstark turned on the recorder in January 2016 to share their take on true crime stories - appealing to large communities of people that are fascinated by true crime - without glorifying the crimes themselves.
Normally, they're sitting on Hardstark's couch, with Elvis the cat closing the episodes by meowing for his cookie. While those elements are absent from the live shows, the dynamic between Hardstark and Kilgariff travels easily, and their interaction with live audiences makes me very excited to see them in action. Good news for festival goers: My Favorite Murder has two shows at the Paramount Theatre on April, 19th at 7pm and 9:30pm.
Other great live podcast choices are About Last Night (Adam Ray and Brad Williams), the inaugural appearances in Austin of Guys We Fucked (Krystyna Hutchinson and Corinne Fisher) and The Fighter and The Kid (Bryan Callen and Brendan Schaub).
The Goddamn Comedy Jam
During the wrap-up party for last year's Moontower Comedy Festival, I told Josh Adam Meyers that watching his brainchild was a religious experience. I couldn't stop raving about what I had witnessed. Josh is electrifying as host and the comics who perform? I think they melt into the music, too. Adam Ray's performance of What's Up? is still one of the most memorable things I've ever seen. There's also a full backing band and a crowd warm up team (lead by rising star Jeremiah Watkins who also supports Jeffrey Ross' Roast Battle as part of "The Wave"). The show just launched regular airing on Comedy Central, so sure, you can catch it on TV. But label this one a "MUST SEE LIVE" show.
Boast Battle
I was lucky enough to catch Jeffrey Ross' Roast Battle taping in Austin last summer featuring some of the best in Austin comedy. But, everything new creates an opportunity for competition, right? A newer concept show, Boast Battle is a competitive compliment contest. I know comics are known for their abilities to bust balls, but how good are they at kissing ass? I plan on finding out what this Kyle Ayers hosted show is all about. Bonus is that LA comic and actress Erica Rhodes (@midnight and loads more acting credits) and DC comic Aparna Nancherla (with her own Comedy Central Half Hour special) are on the show. Let's see how fun it is to be nice!
Don't forget to check out Moontower Comedy Festival's website for all information including venue locations.