It's that time again, the carnival of comedy that is Moontower Comedy Festival. I say "again" because it's become a welcome tradition in Austin, but this will actually be my first year covering it. As the Northernmost Comedy Wham member (up in the suburbs of Round Rock), spending four straight packed evenings in the heart of downtown is going to be rare, but worth every minute.
I'll repeat some quick advice I've gotten from the veterans:
Prepare to hoof (or ride share) it around to the venues. The comedy is spread out at multiple locations, but in a dense cluster in downtown. You likely won't be driving any, unless it's to get to the heart of the city and park to start your adventure.
You can't see it all. That's not hyperbole, there's just simply an overabundance of people and acts you'll want to hit, and you can only be in one place at a time. So plan ahead, using the official schedule. That said, most comics and podcasts at least have a couple of appearances, so you should be able to Tetris your way into a fantastic plan no matter what.
Off we go!
Patton Oswalt
I'm a nerd. I know, I know, you didn't see it coming. But we're out there, were before it was cool, and...Well, is it still cool? Who can keep track? Anyway you look at it, Oswalt is a true nerd's nerd, that is also one damned fine comedian. He has insightful opinions on geeky culture, and a love of film rarely matched. You've definitely seen him on TV, in cameos in movies of every genre, and he's a published author. If that's not enough, he also waxes nostalgic and rants politically sardonic on a Twitter feed you shouldn't miss out on. Oswalt is a man who knows what he loves, and talks about it with unabashed abandonment. That makes him my pick for April, 22nd at the Paramount Theatre. Though the show starts at 9:30pm but you'll want to get in line early.
My Favorite Murder
If you listen to podcasts, and haven't been living under a rock (or don't take your phone with you when you go in there), you'll know about the meteoric rise of My Favorite Murder. It's a podcast with Georgia Hardstark and Karen Kilgariff that takes a loving, fanatical, but ferociously lighthearted, look into historical murders big and small. They adore their topic and strike the perfect balance of making you laugh while also honoring athe and exploring the humanity involved in tragic times. Their unending humility at their newfound stardom is too infectious to miss. Two shows are planned at 7:30pm and 9:00pm at the Paramount Theatre on April, 19th.
Chris Hardwick
Another name you might know from podcasts like Nerdist, his The Walking Dead aftershow Talking Dead, or game shows present and past like MTV's Singled Out, Hardwick seems to be everywhere at once. (In fact, I'm not convinced he really isn't a small army of cloned Hardwicks, bent on world media domination.) I've seen Hardwick live once before on his Funcomfortable tour, and it's a testament to his tireless creativity and invention that I'm set on catching him again this year. He's on stage at 7pm at the Paramount Theatre on April, 21st.
Ali Wong
In further proof that my daughter is, or will soon be, cooler than me, she was the one that actually introduced me to Ali Wong during a Netflix binge session. Her special, Baby Cobra, takes you through her relationships, pregnancy, and feminism. I was hooked on her ability to take somewhat everyday topics and sneak her surprising perspectives on you when you least expect it. She's discovering her path in life, and what she's learning along the way will make yours that much better. See her at the Paramount Theatre on April, 20th. She's doing two sets: 7pm and 9:30pm.
The Rest (And There's a Lot!)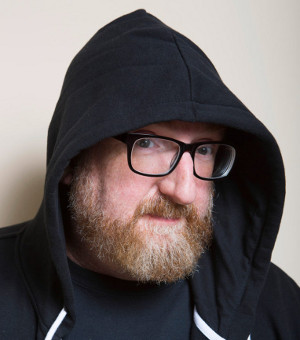 Now, you'll see that I've picked out some pretty big names, but there are literally dozens of showcases, special gigs, and other headliners to choose from throughout the weekend. Don't be afraid to check out shows like Stars in Bars, Stashbox or many of the other compendiums. They may seem like smaller venues, but are filled with both local and national talent, giving you a variety of styles that ensure you'll find something (and probably many things) to love. I'm still hoping to find a way to see Erica Rhodes, Brian Posehn, and...well, I could go on for another 5,000 words and still not have enough space to cover all the great people and opportunities you have coming at you at Moontower 2017.
So make a plan and hit the streets, you can't go wrong! You can find any and all information regarding the 2017 Moontower Comedy Festival at their website.