As you've probably inferred by reading Comedy Wham, Austin is becoming kind of a big deal in the national comedy scene. The annual Moontower Comedy Festival has been dotting that "I" and crossing that "T" for several years. As usual, the festival is throwing a myriad of headliners, showcases, podcasts and a 7ft depressed clown singing songs in minor keys at festival goers. Here are some of my picks for this year's Moontower festival. Please remember that comedy is subjective and these choices are based on my preferences and sense of humor.
Headliners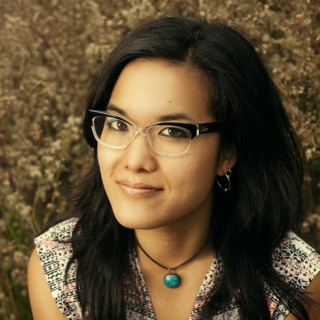 Patton Oswalt is finally returning to Austin, and he headlines the Paramount Theatre on the 22nd at 9:30pm. I like his scathing social commentary blended with nerdy self-awareness. By now most of you are familiar with Oswalt, whether it's through his on screen performances, or his battles on Twitter. Despite all that, it's really his stand-up that shines through. If there's an opportunity to see him live, it should be taken advantage of.
Allie Wong is new to me. For what seemed like months, her Netflix special kept showing up on my recommendations. I finally gave in and really enjoyed myself. Wong is a writer for the ABC sitcom, Fresh Off the Boat. She's also a new mom and a wife - giving her plenty of material. Luckily, you can hear her in all her raw glory twice at the Paramount: April 20th at 7pm and April 21st at 9:30pm.
Showcases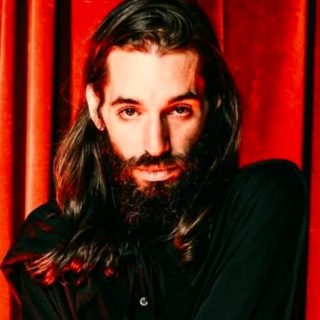 For me, the showcases are the real treat. They're generally accessible to all badge holders; feature a variety of comedians; and provide a nice mix of local and out of town comedians. The challenge for me each year is to not limit myself to only seeing our local comedians. Don't get me wrong, they're awesome, and I know it. Watching folks like Chris Cubas, Avery Moore and Matt Bearden is a sure bet. But not seeing out of town comedians is a disservice. Every year, I've found comedians from out of state who are great and jive with my sense of humor.
Stars in Bars
is a top notch showcase that is an awesome blend of elite Austin and national comedians. It happens on different nights and times at 800 Congress, and the cool thing about it, is the line up changes. The show starts at 8pm on April 20th - 21st, and 7:30 on the 22nd. While the line-ups for all three shows are awesome, I'm looking most forward to the show on the 20th. Matt Bearden hosting a line-up including Martha Kelly, Bryan Callen, and Brian Posehn is right up my alley.
Bye Felicia! is an LGBT comedy showcase at the Velv Comedy Lounge on April 20th at 9pm. Austin's most recent export to the west coast, Daniel Webb, comes home to host a line up featuring Guy Branum, Caitlin Gill, Ralph Hardesty, Carina Magyar, Arielle Norman, and Alice Wetterlund. I love watching Daniel Webb do comedy and will be happy to see him in town again.
The Oddities
There's plenty of extra going on this year. Aside from the showcases and headliners, there's podcasts, one off shows like 7 Minutes in Purgatory and... wait for it, A DEPRESSED SEVEN FOOT CLOWN THAT SINGS... AND HE'S AWESOME! I was stoked to hear he's coming back to Moontower Comedy Festival. I saw him at the festival a few years ago and knew nothing about him. Then he sang a cover of Abba's Dancing Queen and freaked out 200 people.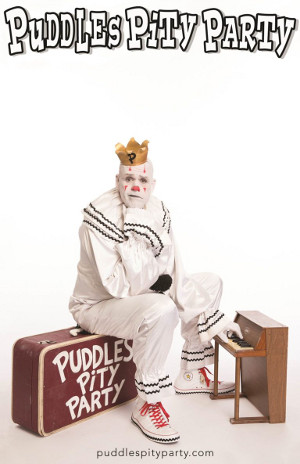 This year, he has a show at the Stateside Theater on April, 20th at 7:30pm. Man, the nefarious Moontower scheduling overlap is going to play me like Sophie's Choice. You will have to make sacrifices. Anyway one of the more interesting comedy concepts is 7 Minutes In Purgatory. This is where a comedian does their set in a room, away from the audience. They don't hear or see the audience which means they can't sense the audience's energy or adjust their timing or set list. It reminds me of being in the army and trying to shoot at paper targets which was a bit nerve racking. The difference is that when comedians are off their game, it can be pretty entertaining. 7 Minutes in Purgatory is at 10:15pm on April, 21st in the Google Fiber Room.
Get Your Badges
Per their M.O., the organizers of Moontower Comedy Fest have stacked their roster. The previous recommendations are only the tip of the iceberg. If you're not hip to my suggestions, we have three more articles coming your way before the festival kicks off. If you're wondering how to get into the events, you have two options: badges and tickets.
Please note the badges have changed since last year:
VIP
Specialist
Warrior
Club/Podcast
The Specialist and Warrior badges are sold out. VIP and Club/Podcast badges are still available, there are shows which have single tickets available for sale as well. You better hurry. All info, including badge prices, parking and venue locations are available on the Moontower Comedy Festival website.