Chris Castles has a show. He has a show and you should go.
Okay, that's enough of the Seussian rhyming now so let's get to brass tacks. Chris Castles and I have been vaguely crossing paths via Facebook groups for sometime now. I finally was fortunate enough to see his stand up during the 2015 Funniest Person in Austin Contest and I should have made the effort to see him perform sooner.
From Oregon to Austin
Castles journey to our humble comedy Mecca, Austin, has been a circuitous one. Born in California and raised in Oregon, Chris Castles grew up with his dad watching Three Stooges reruns and his mom laughing at Eddie Murphy's stand-up. That, dear listeners is probably one of the most eclectic comedy backgrounds I've come across. When he was 14 years old. Castles started playing in garage bands. After several years of living the life of a struggling musician, he performed at his first open mic at a place called Harvey's Comedy Club in March, 2008.
[youtube https://www.youtube.com/watch?v=BXRgz_7pgSA&w=560&h=315]
As time went by, Chris Castles started an open mic in his comedy starved hometown of Eugene, OR. This lasted several years, and throughout his tenure, he'd bring in comics from Portland. Kind of like how showcase curators from Killeen bring in comics from Austin. Things took a turn when, in 2012, he started working on a documentary. Castles tells me, " I produced and filmed a documentary about my friend comedian Andy Andrist confronting his childhood molester, along with director Paul Provenza, and comedian Doug Stanhope." He loved the creative atmosphere in Austin and decided to stay. "Everything I dreamed I would get to be apart of in Austin, is happening. It's a huge scene filled with creative people from amazing backgrounds, with different skills and talents. I feel at home here."
Building a Treehouse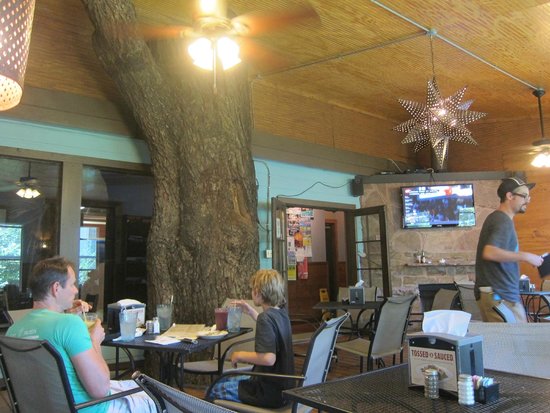 In the two years he's lived in Austin, Castles has made waves. His set at FPIA was creative and refreshing. Two and half months ago he was approached by the management of the Austin Java on Barton Springs Rd. They wanted him to host a weekly showcase. He accepted and has grown In the Treehouse into a go-to event for Friday nights.
The room holds roughly 60-80 people, which is similar to the Austin Java on 12th and Lamar. Better yet, there's a cool tree growing in the middle of the place. So it's literally like a treehouse. How cool is that? I grew up in South Texas so the biggest tree we had in our yard was a mesquite tree. You can't build a treehouse in a mesquite tree. I was always jealous of that kid in Home Alone because he had a sweet treehouse. Now? Now all of us have access to a treehouse that not only has beer and food, but also live stand-up comedy in it every Friday at 8pm.
One last thing, don't do the Austin thing and try to show up late. In the Treehouse runs out seats and free parking pretty fast.
Details:
Chris Castles
Follow Comedy Wham on Twitter: @comedywham